Winter is coming… and so is dry skin.
Winter is coming... and so is dry skin.
As UW-Madison students, it's natural to travel a distance to and from classes and be outside for extended periods of time in below freezing temps and blustery winds. These winter winds are not only cold, but they are also drying and irritating to the skin. This means that as Wisconsinites, we need to devote a little more time and energy to moisturizing and nourishing our skin in the winter months.
"Keeping your hands and body skin moisturized and intact is a way to stay generally healthier," says Jane Glaze, Dermatology Nurse Specialist at University Health Services (UHS). If you have dry, cracking hands, it's easier for both bacteria and viruses such as human papillomavirus—the virus that causes warts—to spread.
To avoid this, Glaze shares tips to keep skin hydrated throughout the winter.
Avoid overheating
In general, heat increase itching and discomfort. Keep the thermostat at 70 degrees Fahrenheit or lower and use humidifiers to help avoid overheating. If you don't have a humidifier, you can set a shallow bowl of water by the heater, which can also help replenish the moisture in the air.
Aim to only take one shower a day and use tepid water. After the shower, pat down, rather than rub and leave some residual water on your skin when applying moisturizer.
Products matter
The most common problem Glaze sees is students using gel-based, oil-control or acne scrubs or washes in the winter. While this products may work in the hot, humid summer, they can be extremely harsh on the skin in the drier months. Her general rule of thumb is that if the product is clear and you can see through it, it is composed of at least 70 percent alcohol content, which means that it is drying to the skin.
Solutions (astringents and toners) and gels are the two most drying products whereas creams and ointments are the most moisturizing. Lotions sit in the middle of the spectrum since they typically contain an alcohol base, unless labeled as "extra dry skin," "eczema," or "24-hour" relief. Glaze suggests sticking to thicker lotions and creams in in the winter and finding creamier hand washes. Examples of these thicker lotions and creams include Aveeno, Vanicream, Cerave, Cetaphil, and Eucerin. Ointments, like Aquaphor and Vaseline, can be applied to the driest areas of skin, like cuticles, knuckles, and elbows around bedtime. Avoid putting on lip products that have higher petroleum content right before bed, as they may be responsible for clogging pores and creating whiteheads.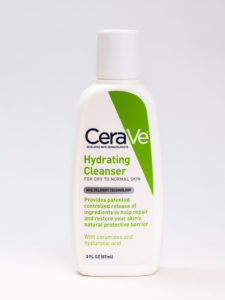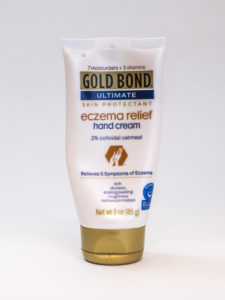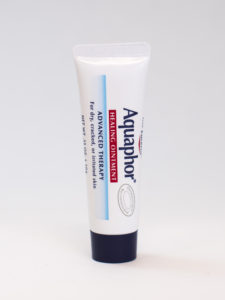 Sensitive skin deserves sensitive care
If your skin gets more irritated from using products, look for products labeled "sensitive skin" or "fragrance and dye free." The majority of chemicals that are known to cause irritation to the skin are removed from these products. Glaze recommends using a non-scented, thick, white cream if you're experiencing sensitivity.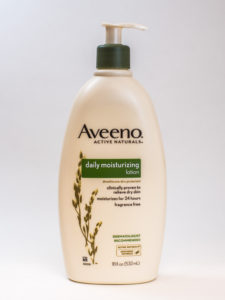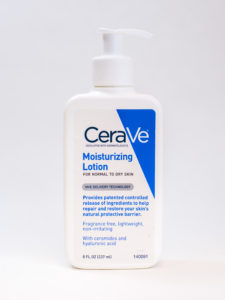 Be wary of products "For Men"
Glaze says to be cautious of product lines advertised as "for men." The products typically are very fragrant and clear, meaning they have a high alcohol content and may be especially drying and irritating to the skin. So, you may want to trade in Old Spice or Axe lines in for a more moisturizing product in the winter.
As the temperatures continue to fall, make time for some extra TLC for your skin. Whether it's adjusting your living environment or purchasing a more effective product, keeping your skin healthy, moisturized, and intact is a basic act in taking care of your health.
Keep in mind that the products and suggestions in this article are general recommendations. If you have persistent dry skin, it may be best to meet with a provider.
Written by Allison Chang, UHS Marketing & Health Communications