13 new providers in Mental Health Services
13 new mental health providers at UHS this fall
Thirteen new mental health providers recently joined University Health Services, including providers with a focus on students of color, LGBTQ+ students, and additional Spanish-speaking providers.
To respond to the Student Services Finance Committee's (SSFC) 2020 budget recommendations related to student mental health, UHS underwent a robust hiring process which resulted in 13 providers hired in spring and summer 2019. Other recommendations included creation of a mental health task force, expanded hours to increase access to services, and additional physical space for Mental Health Services.
"We're excited to add providers and focus on areas with specialization to serve students from marginalized populations, and reach more students who are interested in using Mental Health Services," said Andrea Lawson, Interim Director of Mental Health Services at UHS.
Beginning this semester, MHS will offer evening hours on Mondays and Tuesdays until 7 p.m. Expanded hours—including group counseling—will be available to students through December 20. MHS is also finalizing the hiring for an Associate Director of Satellite Services to oversee the expansion of clinical services to spaces outside of the 333 East Campus Mall location.
"We're committed to better meeting the needs of campus," says Jake Baggott, Associate Vice Chancellor and Executive Director of UHS. "One of the ways we're doing this is by expanding services to be more available to students, as well as looking ahead to anticipate future needs."
College is a time of transition and change for many students.  For some, this includes leaving their families and communities of origin and coming to a new space to explore their identities, future goals, and independence. Several of the new MHS providers shared their perspectives on working with the college student population, supporting a diverse campus community, and asking for help.
Dezarae Avalos (she/her/hers) | Student of color focus
"My first experience with therapy was as a first generation college student at my college counseling center, which was at one of the most difficult times of my life. That experience shifted my career trajectory to working with students. As a group of new providers, we're meeting members of student organizations, joining campus committees, and offering support to our colleagues as Health Ambassadors.
Some students may be unsure or have questions about the scope of confidentiality at a college mental health service. I understand when students ask "Will my professor know about my therapy? Will my family? Are others going to have access to my health records?" The answer is no. Your insurance doesn't get billed and no one is notified of your appointments."
Molly Caradonna (she/her/hers) | Survivor Services and trauma, eating disorder focus
In my role in Survivor Services,  I see students who are impacted by complex trauma whether it's from dating or domestic violence, sexual assault, psychological abuse, stalking/harassment, or any other form of interpersonal violence. Sometimes students rule themselves out and think, for example, Sometimes students rule themselves out and think, for example, "What I experienced wasn't that bad" or they compare their suffering to what they've read about or heard other people talk about. Survivor Services is a safe space for anyone who experienced trauma related to sexual assault, stalking, domestic violence, or sexual harassment that lingers with them and impacts how they show up in their life on a day-to-day basis.
If you have a suspicion that things could be going a little better or you think, "This is a little harder than I thought, this transition to college feels really big," don't hesitate to come in. Students will self-select out by telling themselves, "I don't have it bad enough," or "I should be able to do this on my own." Reach out to us. There are many different kinds of services and MHS wants to help you be successful and enjoy your time at UW-Madison."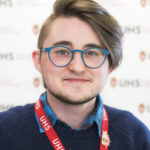 Sidra Dillard (they/them/theirs) Transgender and Gender Non-Conforming (TGNC) Coordinator
"My role is to create a bridge for TGNC students between Mental Health Services and Medical Services. There are historical barriers for TGNC folks accessing medical and mental health care. Our goal is to make the process as streamlined and simple as possible for students to access the services they need, including letters of support for surgery. There's something special about this role. They aren't many college health centers that have coordinator roles for the TGNC population. It's a recognition by UHS that this is a population that needs to be served. The best way to do that is to break down barriers and the coordination piece is an important part of that process.
It's important for me to discuss how TGNC clients experience gender euphoria. There are narratives around how gender diverse identities are sad, tragic, and suffering. It's important to promote—both  internally and with clients—that there are strengths, happiness, and joy to be found in those identities. I try to offer a framework that's not solely emphasized on the things that can make TGNC experiences difficult, and balance that with the things that are joyous and provide strength and happiness."
Claudia Marte (she/her/hers) Student of color focus, Spanish-speaking provider
"I'm a person of color, a first generation college student, a veteran, and I understand what it was like to learn the English language growing up. It's important for students to connect with a provider who shares some of their lived experiences. If a student is struggling with issues related to their identity, I want to help empower them.
As new providers on campus, we want to get to know the students we're serving, be involved, and make connections. I've been invited to meet the community in Department of Chican@ Studies and I'm part of a veteran's workgroup. UHS is a welcoming space and there are different counseling options for each person. Some students may not feel comfortable committing to ongoing therapy and you don't have to. There are single session appointments available, too."
Michelle Pitot (she/her/hers) | LGBTQ+ focus provider
"For me, this is coming home. I did my graduate internship at UHS and I'm excited to be part of an organization that is trying to improve students' lives. My focus is working with LGBTQ+ students. There's a lot of responsibility placed on the person who holds a marginalized identity feeling that they need to educate the majority population to avoid misgendering someone or not using a dead name. What I love about working with the LGBTQ+ population is the strength, resiliency, creativity, and leadership in ourcommunity. In the face of so many challenges, this a thriving, vibrant community who perpetuates self-empowerment. I'm excited to support that.
There still can be misunderstanding about what counseling means, especially if you hold any marginalized identities. I want to be responsive and connect students to the many options that are available to them. There are students who need evening appointments because they're in class all day or students who don't want to return to class after a counseling appointment."
Sam Troemel (she/her/hers) LGBTQ+ focus provider
"I've always wanted to work with the LBGT community and, being a queer provider, it's important to have someone with similar life experiences available to students. Of the new staff who were recently hired, many of us are working flex hours and evening hours to be available to students. We are involved with different campus organizations to increase outreach and the visibility of our services to students. I'm collaborating with Gender & Sexuality Campus Center and being present at their events so students can see a face if they're interested in coming to UHS for services.
As a cohort of new providers, we confer often to determine who the best provider is for a client in terms of their focus and looking at intersectionality. I feel confident in the providers that I work with to know that someone may be a better fit for a student. I also let students know that I won't be offended if you want to see different provider. It's important to connect with the provider who is the best fit for you."
Additional new providers at UHS are:
Sara Bannon, Psychiatry Nurse Practitioner
Denise Calhoun, Mental Health Provider
Stefanie Denu, Mental Health Provider
Egg Guo, Mental Health Provider
Jocelyn Keiser, Temporary Mental Health Provider
Danyelle Okesanjo, Access Specialist
Jenna Wieden, Temporary Mental Health Provider
Becky Hiller, Mental Health Provider: Survivor Services
Abby Lindemann, Mental Health Provider
If you are interested in starting at Mental Health Services, schedule an Access Appointment in MyUHS or call 608.265.5600 (option 2).