UW-Madison completes PHA recommendations
UW-Madison completes PHA recommendations
On May 3, UW-Madison was one of 21 college and universities to be recognized in Washington, D.C. for completing the Partnership for a Healthier America (PHA) Healthy Campus Initiative (HCI) recommendations.
UW-Madison joined the HCI in 2015 and, over the course of the three-year commitment, implemented all 23 of the recommended guidelines. These guidelines ranged from increasing healthy meal options in university dining halls to offering more diverse opportunities for physical activity.
UW-Madison is a national leader in college health and wellness, including built environments (such as bike racks), food pantries, ample access to recreation facilities, and evidence-based high-impact prevention programming.
Campus partners including Recreational Sports, University Housing, the Wisconsin Union, and Facilities Planning & Management partnered to promote and support the recommendations in an effort to cultivate healthier campus community. Units continue to evaluate their efforts and strategies to ensure sustainability and lasting impact.
"University Housing Dining and Culinary Services is proud of our achievement and excited that we contributed to the success of this program. We will use PHA as a springboard to continue to evolve our healthy options, plant-based diets, and overall wellness program," says Paul Sprunger, executive chef at University Housing.
A core HCI recommendation was the development and implementation of a comprehensive campus wellness strategy that included offering incentives for employee wellness and collaboration to address programming and environmental efforts. The 2015 Campus Master Plan laid the groundwork to achieve compliance in a number of areas as many guidelines applied to the built environment which has continually supported campus-level wellness.
"These partnerships highlight UW-Madison's commitment to the health and well-being of our campus community. We had the foundations for many of these guidelines in place on campus and the HCI provided new opportunities to highlight and expand our efforts," says Katherine Loving, manager of Healthy Campus initiatives at University Health Services.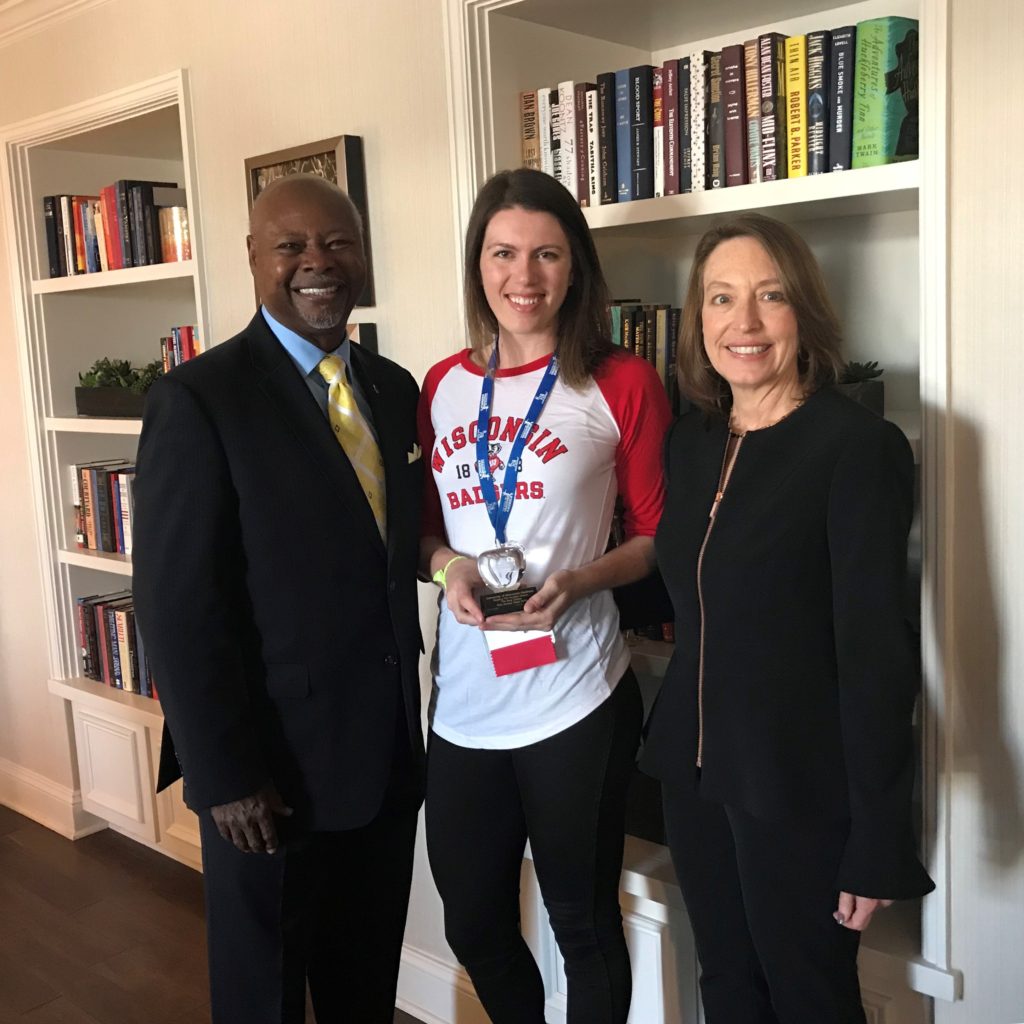 UHS Suicide Prevention Specialist Valerie Donovan accepts UW-Madison's award from PHA President and CEO (Nancy Roman) and PHA Chairman (Dr. James Gavin).