UHS providers and staff honored by campus partners
UHS staff and providers honored by campus partners
UHS receives Chief's Award and Community Service Commendation
University Health Services (UHS) received a Community Service Commendation Award on April 18 from the University of Wisconsin-Madison Police Department (UWPD) for their work in the fall 2016 Meningitis B Vaccination Clinics. RecSports was also honored with a Community Service Condemnation Award for providing the space, equipment, and supplies for the vaccination clinic.
The ceremony honored UWPD staff, as well as campus and community partners, who contribute to keeping the UW-Madison campus community safe.
"We recognize colleagues and partners for their extraordinary work and going 'above and beyond' in the name of safety," says Marc Lovicott of the UW-Madison Police Department. "We take great pride in recognizing those outside of our agency who work tirelessly alongside UWPD in promoting safety and security on the UW-Madison campus."
Jen Baird and Joel Malak, nurse managers at UHS, accepted the Community Service Commendation Award on behalf of UHS for their leadership on the Meningitis B vaccination clinic point of dispensary, or POD. Baird and Malak facilitated vaccine supply alongside leaders from the State Health Department, coordinated staffing, oversaw daily operations, and facilitated efficiency changes as necessary.
"This award represents the hard work of so many individuals from within UHS and in the campus, Madison, and Wisconsin community," says Baird. "I am truly amazed by the commitment of this campus and how the community came together to fill a need when it arose."
Val Donovan, the suicide prevention coordinator at UHS, was also recognized at the ceremony. Donovan and UWPD Officer Barrett Erwin received a Chief's Award for their successful implementation of a suicide prevention training in the Bradley Learning Community. The program taught students to recognize signs of distress, respond to concerns, and raised awareness of various free mental health services on campus.
"Officer Erwin and I encouraged checking-in with and supporting peers, and increased awareness of mental health issues and resources," says Donovan. "I feel grateful to have UWPD and University Housing as partners."
"We are incredibly proud of the dedication of our staff and campus partners," says Dr. Sarah Van Orman, Executive Director of UHS. "This would not have been possible without the hard work and support of our staff, campus partners, and student body."
Prevention staff members honored for impact on student life
Four members of UHS Campus Health Initiatives and Prevention Services were recognized by the Student Personnel Association (SPA) for their impact on student life at an awards ceremony on May 5.
SPA is comprised of higher education professionals who collaborate and network to support and enhance the student experience. Campus Health Initiatives and Prevention Services provides population-based prevention and health promotion services to the UW–Madison community, working to reduce high-risk behaviors and create an environment where people are safe, included, and connected to one another.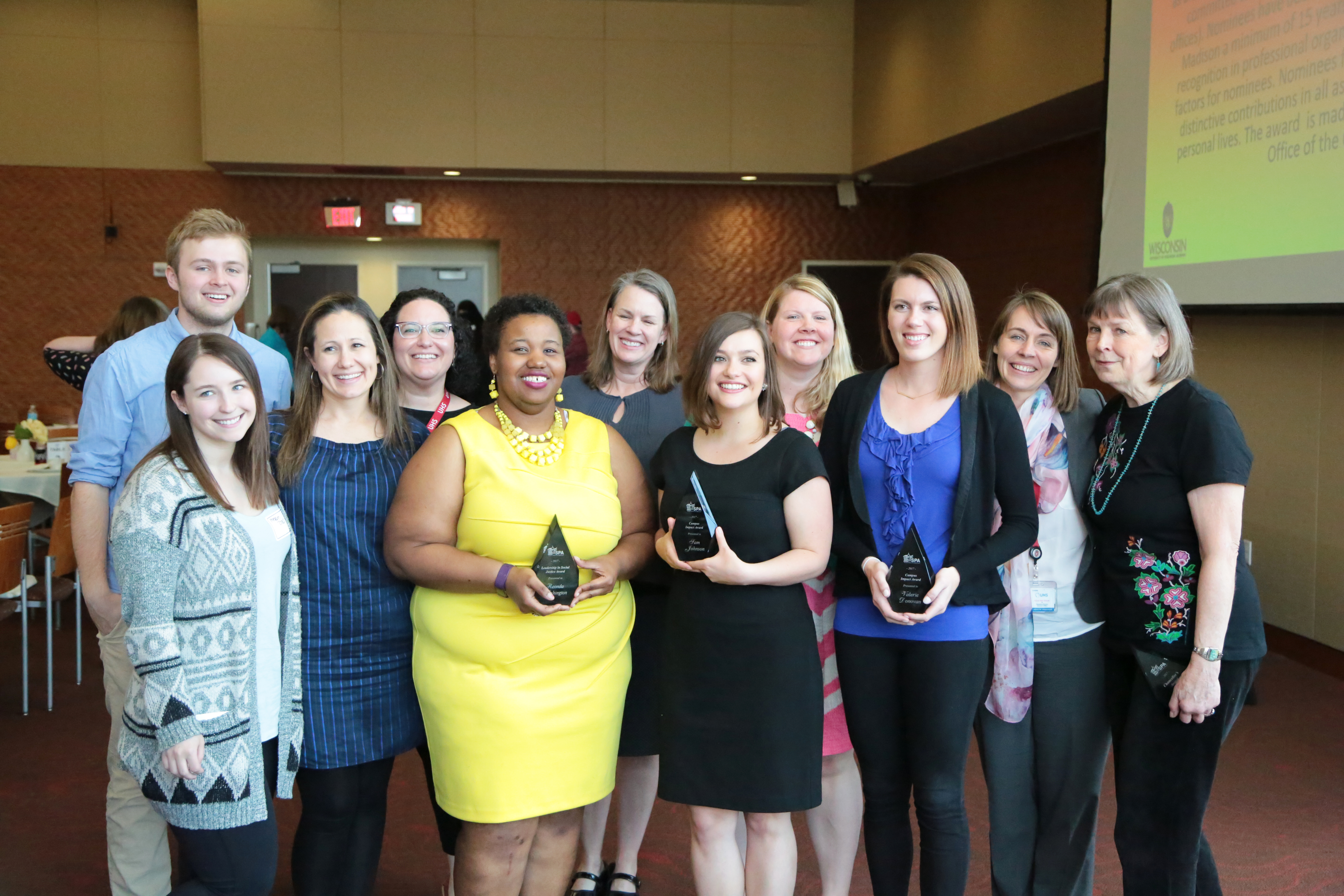 Campus Impact Award
Valerie Donovan, Suicide Prevention Coordinator, Healthy Campus
Sam Johnson, Violence Prevention Specialist, Violence Prevention & Survivor Services
The Campus Impact Award recognizes early career professionals who have had a significant impact on campus. Donovan develops policies, systems, and environments to support student mental health. Johnson has been integral in creating effective programs for educating incoming and current students about preventing gender-based violence.
Leadership in Social Justice Award
Reonda Washington, Alcohol and Other Drug Coordinator, Healthy Campus
Washington was recognized for her leadership in initiating, creating, and supporting a more socially-just learning and work environment for students and staff through The Color of Drinking Survey. This survey  examines the impact of UW-Madison's alcohol culture of undergraduate students of color.
Chancellor's Award
Margaret Nellis, Academic Partnerships, Healthy Campus
Nellis was honored for her campus wide leadership and distinguished service to the university community and student services. During her 22-year tenure at UW-Madison, she developed interdisciplinary models and practices in teaching, research, and service; connected key health and community development issues to the academic work of the university; and promoted student health and learning including in the area of food insecurity.
Center for Educational Opportunity 
Sam Johnson and Simone Collins, Associate Director of Campus-Based Services, were recognized by the Center for Educational Opportunity for continuous support and contributions to the well-being of graduate and professional student mentoring and CeO Scholars.  The mission of CeO is to increase access, retention, and graduation rates for first-generation college students, students whose families live below the federal poverty line, and students with documented disabilities.
Division of Student Life Partnership Award
Simone Collins is also the recipient of the Division of Student Life Partnership Award.  This award honors an individual, unit or campus organization that has significantly aided one of our division's departments in the advancement of their mission, programs and services.  The UHS Mental Health Services Campus-Based Services Team is being recognized for their collaboration with the Multicultural Student Center.