Breaking down barriers: Students of color & mental health services
---
Breaking down barriers between students of color and campus mental health services
Asking for help is always challenging, but students of color often face historical and cultural barriers when trying to access mental health services. The counselors at University Health Services are reaching out to minority student groups in an effort to bridge that gap.
Historically, a stigma exists between people of color and mental health care. Only about one-quarter of black Americans seek mental health care, compared to 40 percent of white American[1]. Asian Americans showed stronger negative implicit attitudes toward mental illness than whites[2]. In addition, minorities experience a greater burden of disability from mental disorders.
These biases are deeply rooted in issues such as access to care, distrust, and perceptions of weakness in those seeking help. The National Alliance on Mental Illness lists hurdles that typically prevent black Americans from seeking and receiving quality care, which include lack of information and misunderstanding about mental health; faith, spirituality, and community; and a reluctance and inability to access mental health services.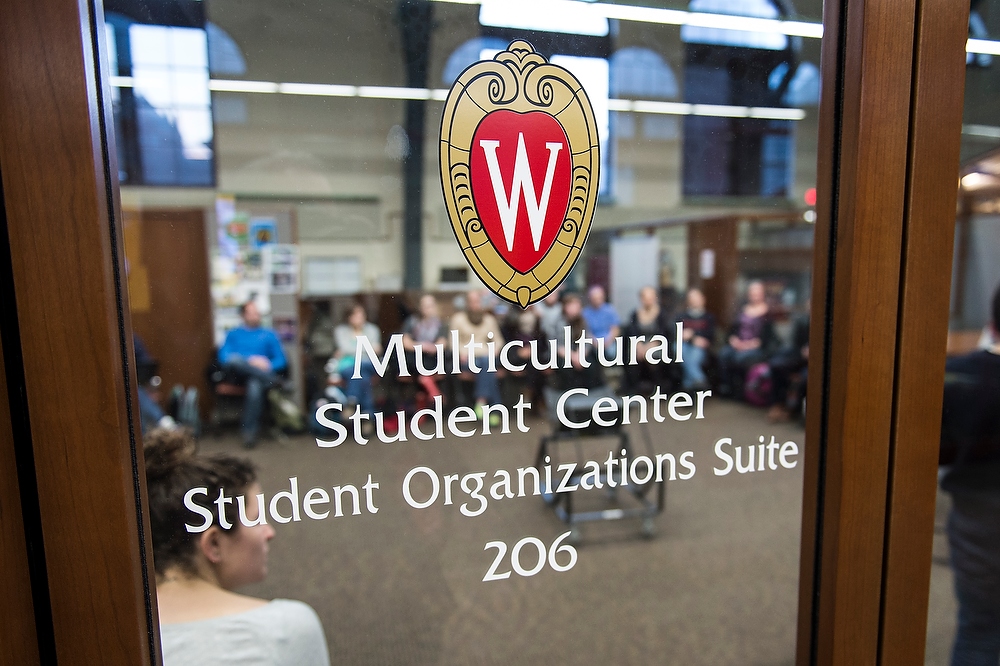 Data suggests that students of color at UW-Madison buck national trends of access. In the 2015-16 school year, 14.8 percent of black students, 14.4 percent of Native American students, and 13.2 percent of Hispanic/Latino students utilized mental health services at UHS, compared to an overall utilization rate of 10.3 percent among all students.
In 2015, Chancellor Becky Blank allocated funds to hire six new counselors at UHS; two were specifically funded to meet the needs of students of color. This came on the heels of dialogue surrounding #TheRealUW and other issues with diversity and the campus climate.
Simone Collins, PhD, UHS Director of Campus-Based Services, says UHS has made an effort to be very visible in certain spaces where students of color tend to gather. One such place is the Multicultural Student Center , located in the Red Gym. UHS staff is present there every day of the week to run a suite of programming. This counseling presence breeds familiarity with UHS staff and encourages students of color to see them as more than just a face at UHS. A weekly drop-in counseling session there, "Hearts and Crafts" encourages students to express themselves while speaking with a UHS counselor, and the "EmPower Hour" was introduced as a pilot program in 2015.
Another problem is unfamiliarity. The lack of mental health professionals of color is substantial; only 1.5 percent of members in the American Psychological Association are African American. Seeing providers who look like you can engender a deeper, more personal dialogue, Collins says.
"It makes [UHS] a safer, more inviting place for students of color when they know providers of color, or at the very least, people who understand some of the unique concerns that come around from being a student of color."
"When I go places, I'm not 'Dr. Collins,' I'm not 'the UHS counselor,' I'm just Simone," says Collins. "So they connect with me as a person, and then it's not so scary to talk to me about what's going on for them."
In a dual role as health ambassadors, UHS staff have also fostered relationships with many campus units and programs such as the Division of Diversity, Equity & Educational Achievement, the Posse Program, First Wave, Pathways Student Academic Services, and the Center for Educational Opportunity. These health ambassadors conduct prevention workshops covering topics like time management, end-of-semester stress, depression, and anxiety for these groups.
Collins senses a possible sea change among the current crop of students. While she won't say the stigma is disappearing, she does see more students who are likely to engage in counseling as a self-care outlet.
"For this generation of students, it's more important to think about whole health. What's been great is that a lot of students are looking at this and saying 'Oh, we do need help.'"
To learn more about UHS Mental Health services, please visit https://www.uhs.wisc.edu/mental-health/.
[1] National Alliance on Mental Health, "African American Mental Health"
[2] Robert Wood Johnson Foundation, "The Culture of Mental Health Stigma in Communities of Color"
Written by Ben Vincent, UHS Web and Publications Editor
---