Good Work, Good Friends, and Goodwill: Wirth and McGiverin honored for commitment to UHS
Good Work, Good Friends, and Goodwill: Wirth and McGiverin honored for commitment to UHS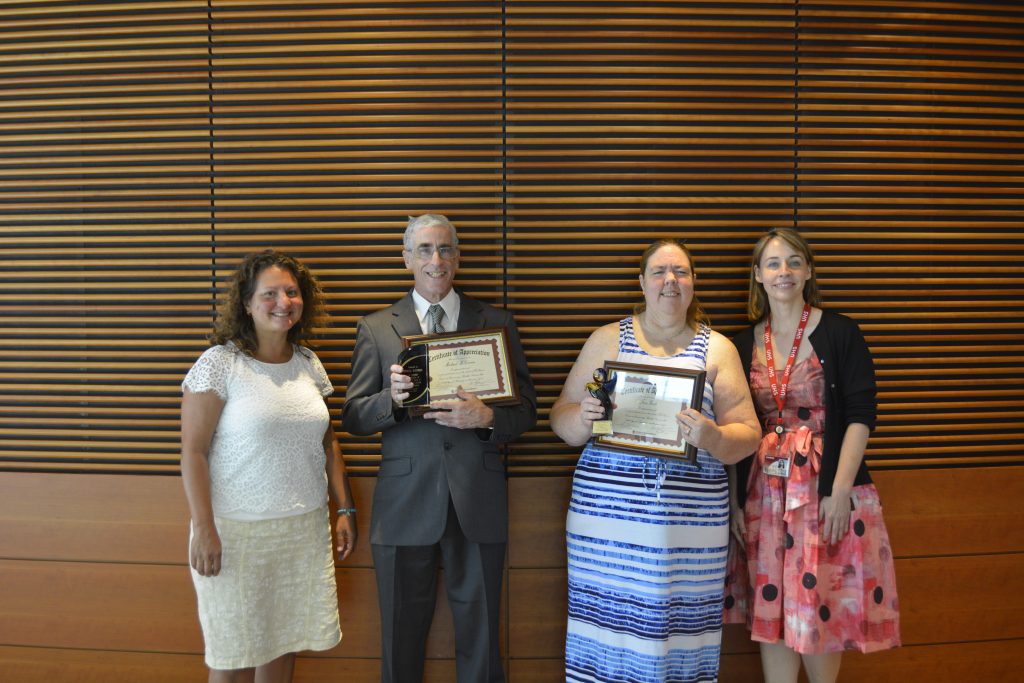 It takes a diverse team of providers and staff at University Health Services (UHS) to bring high-quality care to a student population. Not only does UHS seek to provide inclusive, accessible, and culturally competent care to the UW-Madison campus community, that culture is also reflected in the employees—especially Terri Wirth and Michael McGiverin.
Wirth and McGiverin boast impressive careers with UHS that began through Goodwill Supported Employment Services—a program designed to assist adults with disabilities find employment that suits their strengths, provide ongoing job training, and long-term support. As part of the Health Information Management (HIM) Unit, Wirth and McGiverin provide administrative assistance to maintain the security and privacy of student health records. Wirth's duties include mail courier, clerical assistance, and other miscellaneous department needs. In the words of Sheila Zweifel, HIM manager and Wirth and McGiverin's direct supervisor, "She's a Terri-of-all-trades." McGiverin also has clerical duties in addition to mail and package delivery and disposal of confidential records. "Michael's my name, shredding's my game," says McGiverin.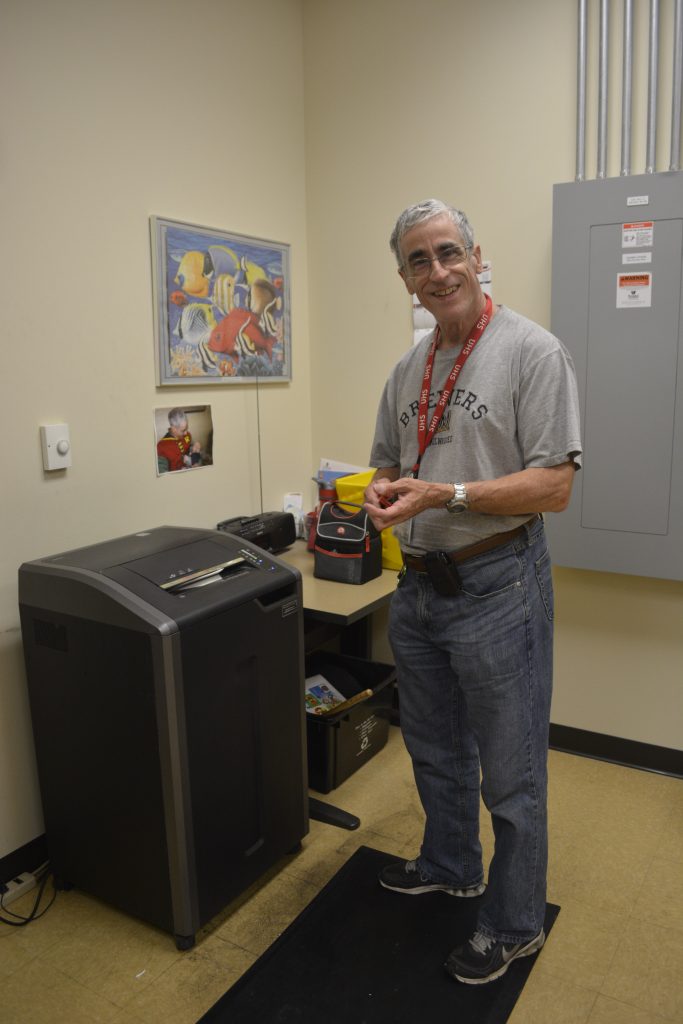 This year, Wirth and McGiverin celebrated 20 and 25 years respectively with UHS. Both were formally recognized for their commitment at the UHS All Staff Retreat in August.
Throughout their extensive careers, McGiverin and Wirth have gone above and beyond to meet UHS's evolving needs and serve students. "There are days that Goodwill closes due to inclement weather and we suggest people stay home," says Erica Jahnke, a case manager at the Goodwill Supported Employment Program who works with Wirth, McGiverin, and approximately 15 other clients. "But they always say they're going to bundle up and go in because the health services clinic is still open." Prior to moving over to 333 East Campus Mall facility in 2008, McGiverin's responsibilities included delivering mail in-between the file room and urgent care buildings. Rain, shine, sub-zero temperatures, and everything in between did not hinder McGiverin from fulfilling his duties.
Additionally, McGiverin and Wirth have successfully navigated multiple transitions, most notably, the move to the 333 East Campus Mall location, and the switch from paper to predominately paperless administration. "We've asked them to change with our changes," says Zweifel, "and they've immediately responded, with the assistance of Goodwill." "I spend a lot of time working with clients during times of transitions, job changes, or increased responsibilities," Jahnke explains. For example, when McGiverin experienced difficulties with a new organization system, Goodwill helped UHS adapt it to McGiverin's abilities with a color coding system.
Despite changes, the relationships Wirth and McGiverin forged during their time at UHS have remained constant. "I like the people," says Wirth, describing her coworkers. "They're very friendly and nice. They care about you." Both Wirth and McGiverin mentioned several coworkers that they have developed close friendships with over the years, and leaned on during times of personal difficulty. Jahnke speaks highly of UHS's work culture and inclusivity. "They are invited to events, picnics, retirement parties, everything. It's an excellent work environment." Zweifel notes how over the years she has gotten to know Wirth and McGiverin's family members as well. "It's not just the Goodwill family, it is a real family. It is so helpful because we need that connection."
The professional partnership between Goodwill and UHS is grounded in communication, flexibility, and enthusiasm. "Great natural supports are provided by UHS. They're an amazing employer and we have a great working relationship," says Jahnke. "It's been a win-win for UHS for more than 30 years," says Zweifel. Everyone operates under the assumption that if any challenges arise, they can be solved together. The partnership was formally recognized in 1996 with a Governor's Award, honoring them for their commitment to hiring individuals with disabilities. Wirth and McGiverin are both very invested in their communities and lead active lives. Both have additional employment, Wirth at Dunkin' Donuts and McGiverin at a local law firm. Wirth volunteers at her church, and spends a good deal of time babysitting her eighteen nieces and nephews. "Not all at the same time, of course," she jokes. McGiverin is extensively involved in Special Olympics, his favorite sports being basketball and softball.
There is no limit to what hardworking individuals can accomplish with communication, readiness to problem-solve, and genuine inclusivity. Wirth was excited to share her recent recognition with her husband and family. "I've never worked somewhere for 20 years before." McGiverin brought his plaque to work for the next few days to make sure all his friends and coworkers had seen it. "It's meaningful to me because they've enjoyed their employment," says Jahnke. "They're happy and comfortable here, they like their jobs, and they've made friends." 
Written by Gina Nerone, UHS Web and Communications Assistant