Feeling blue and seeing green: Blue-green algae 101
Feeling blue and seeing green: Blue-green algae 101
Odds are that if you've spent a summer in Wisconsin, you've heard of blue-green algae's ability to shut down our beaches and, in turn, our summertime fun. But what exactly is blue-green algae, and why should you know about it?
Blue-green algae, or pond scum, is actually not algae at all, but rather a photosynthetic bacterium known as cyanobacteria. It is colloquially referred to as blue-green algae due to its coloration, but the cyanobacteria can also be red or brownish in color. In large quantities, the cyanobacterium tend to float on the waters' surface in large mat-like patches, known as blooms. During these blooms, cyanobacteria can produce toxins that are potentially harmful to humans and other animals.
Not all blooms produce toxins, but Stephen Carpenter, the Director for the Center for Limnology at UW-Madison, says the danger is impossible to assess visually. An in-depth chemical analysis is required to determine the potency of the algae.
"It's best to assume that cyanobacteria are dangerous," says Carpenter.
"Exposure to cyanobacteria most commonly causes upset stomach or skin rash," Carpenter explains. However, in extreme cases, more adverse consequences can occur, especially when the toxins are ingested. "The toxins affect the nervous system and liver. They can cause rapid death by respiratory failure." For these reasons, state and local officials recommend taking precautions when swimming.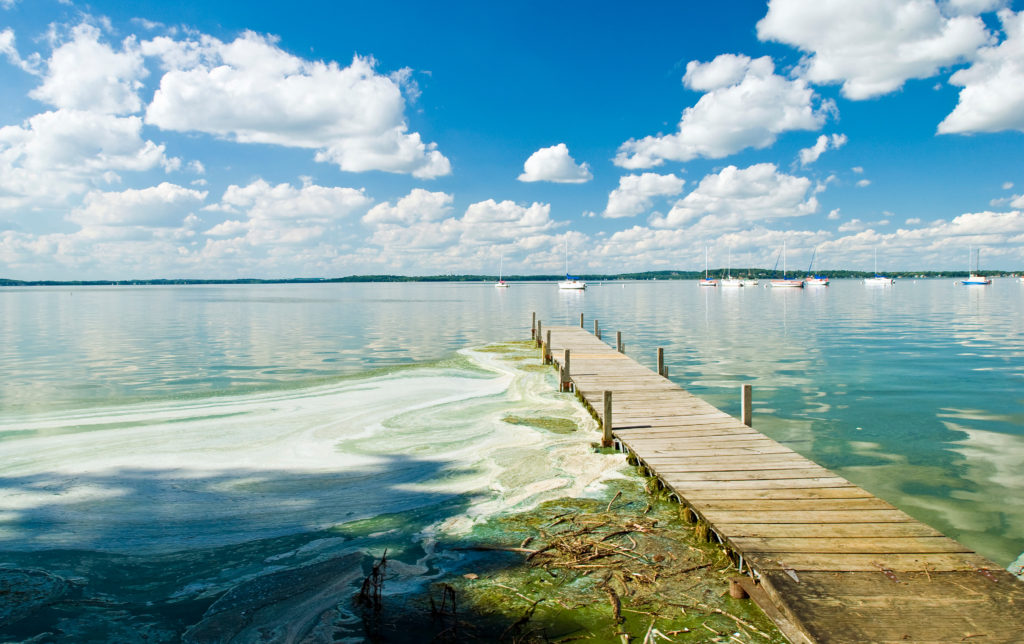 Avoid swimming in areas that have blue-green algae. The City of Madison Parks Department and Public Health of Madison and Dane County track toxin and algae levels on their websites, so check if your beach is safe prior to swimming. If you see anything like the image above, don't come into contact with the water, and let a lifeguard or public health official know. If you are with pets, keep them out of the water as well.
If you think you may have come into contact with cyanobacteria, rinse off immediately with fresh water and self-monitor for symptoms of poisoning, such as skin rash, chapped lips and blisters, sore throat, headache, muscular pain, respiratory difficulty, and gastrointestinal symptoms. Contact a health care provider if you observe any of these symptoms.
For more information about blue-green algae, check out these resources from the Wisconsin Department of Natural Resources and Department of Health Services.
Written by Gina Nerone, UHS Web and Communications Assistant.
---