Supporting Native survivors of sexual violence
Supporting Native survivors of sexual violence
On April 13 & 14, Amanda Watson of the Minnesota Women's Sexual Assault Coalition presented campus workshops and met with Native students to examine both the prevalence of sexual violence against Native women as well as effective strategies to prevent violence before it happens. Her visit to campus was hosted in partnership with the Multicultural Student Center, The Division of Diversity, Equity, & Educational Achievement/American Indian liaison, and University Health Services/End Violence on Campus.
Watson works with tribal communities to develop effective response services for survivors, as well as how to mobilize communities to end sexual violence before it happens. She previously worked in student affairs, resident life, and academic advising. This brought her into contact with women who had experienced sexual violence.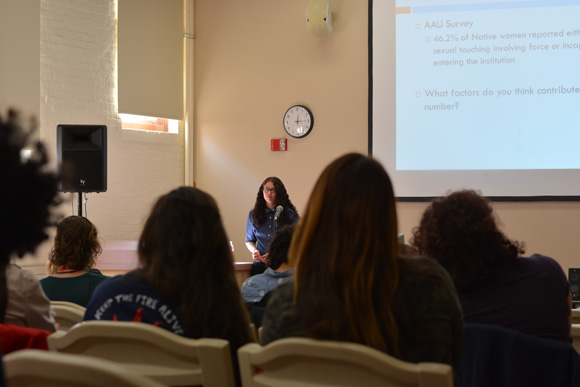 "Those experiences have driven home for me that violence against Native women on campus does not happen in isolation," Watson said. "It is the result of larger systems of racism, sexism, and colonization."
The rates of sexual violence against Native women are staggering. 86 percent of perpetrators of violence against Native women are non-Native men[1]. A 2014 study conducted by the Centers for Disease Control and Prevention found that 27.5 percent of Native women were raped during their lifetimes[2]. The numbers are even more pronounced on college campuses. The 2015 study conducted by the Association of American Universities found that 46.2 percent of Native undergraduate females at UW-Madison reported either penetration or sexual touching involving force or incapacitation since enrolling on campus, compared to 27.6 percent of female undergraduates as a whole[3].
Watson touched on topics of colonization, ecological damage, and destruction of social structures to give the audience an understanding of the current environment Native women live in. Noting that Natives are often "left off" cultural awareness programs, she challenged universities to provide more inclusive curriculum and preventive education programs emphasizing healthy masculinity.
University policy should use the standard of affirmative consent, Watson said. Campuses should "ensure that policies are designed to hold students who perpetrate violence accountable."
"While this may be partially reactive, having clear accountability processes for students who use violence sets a tone on campus that sexual violence is taken seriously and will not be tolerated."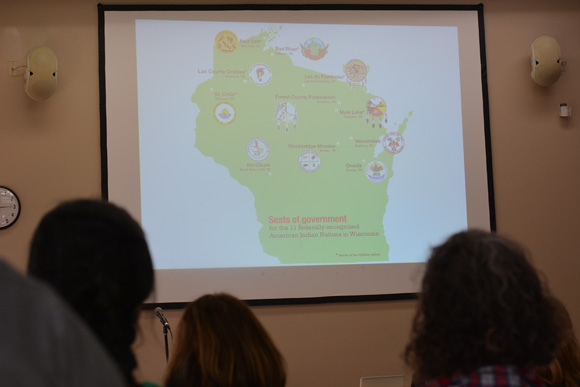 Preventing sexual violence starts before students even step foot on campus. According to Watson, staff in pre-college recruitment programs and initiatives can actively convey the message to prospective students that sexual violence will not be tolerated.
Watson stressed that Native students can ultimately serve as some of the most effective agents of change on their campuses.
"Native students on campus are the experts in their experiences, and if staff, faculty, and administrators want to create tangible change at the university, then they should be directly consulting with Native students."
University Health Services and other agencies in and around the greater Madison area offer free and confidential support to survivors of sexual assault. More information can be found here:  http://www.uhs.wisc.edu/assault/sa-resources.shtml
[1] http://firstpeoples.org/wp/tag/moose-hide-campaign/
[2] http://www.cdc.gov/mmwr/preview/mmwrhtml/ss6308a1.htm
[3] http://www.uhs.wisc.edu/AAUSurvey/documents/task-force-report.pdf
Written by Ben Vincent, UHS Web and Publications Editor