Student organization brings local produce, fresh from the garden, to you
Each Friday afternoon throughout the summer and fall, a line of students and campus community members who are eager to indulge in fresh, local produce forms in front of UHS on East Campus Mall.
Harvest Handouts, run by the student organization F.H. King Students for Sustainable Agriculture, delivers high-quality, sustainably grown produce on a first-come, first-serve basis free of charge.
Named for the late UW-Madison professor Franklin Hiram King, who is considered to be the father of sustainable agriculture and soil physics, F.H. King distributes produce to nearly 200 people each week.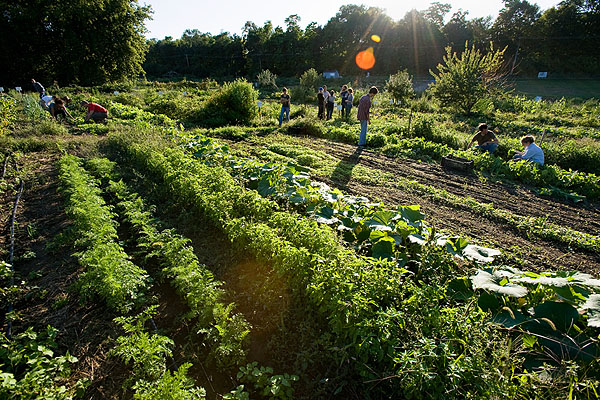 "This is a way of providing students with fresh, free produce," said Morgan Menke, F.H. King's administrative director and an undergraduate majoring in Community and Nonprofit Leadership. "It's also an opportunity to educate students about the benefits of sustainable agriculture and new types of vegetables and ways to cook them."
Leafy greens including lettuce, kale, and spinach, as well as root crops such as beets and radishes, are available early in the growing season (June and July). As the bounty increases later in the summer, green beans, cucumbers, broccoli, zucchini, and a variety of herbs are available.
F.H. King student interns and volunteers harvest the produce from a student farm at the Eagle Heights Garden on Friday mornings, then sustainably transport the harvest by trailers attached to Full Cycle Freight bikes to East Campus Mall for Harvest Handouts.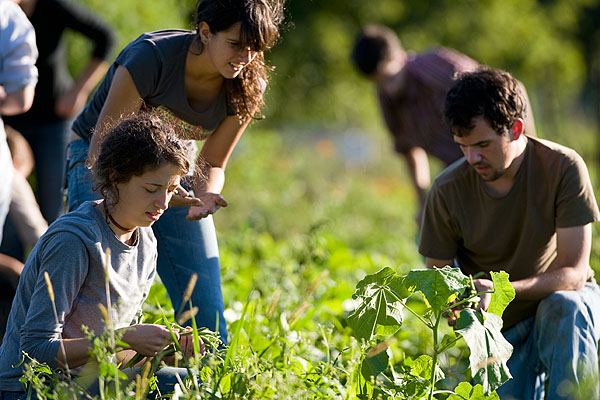 "It's a sense of trust knowing that your food was grown in a way that benefits the soil as well as your body," said Menke. "I also think it's comforting to know that the food you get from Harvest Handouts was grown amongst friends."
Nearly the entire bounty of produce grown in the student garden is distributed at Harvest Handouts each week. Produce that is not given away is donated to local food shelters.
Harvest Handouts is set up outside of 333 East Campus Mall on Fridays beginning at 1 p.m. and distributes produce until it's gone. Remember to bring your reusable bag!
For more information on Harvest Handouts and F.H. King, visit http://fhkingstudents.wix.com/fhking.
Written by Kelsey Anderson, UHS Health Communications Specialist