Halloween Safety: Avoiding all the dangerous things that go bump in the night
Halloween safety: Avoiding all the things that go bump in the night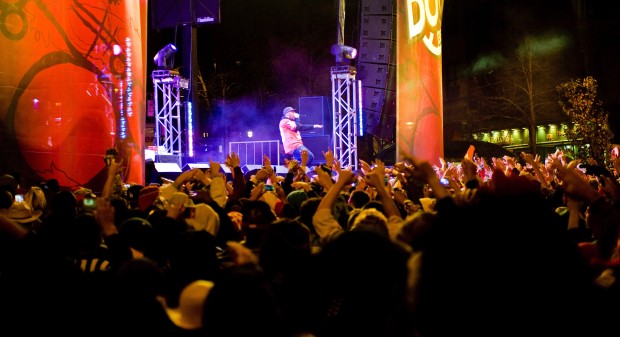 Photo courtesy of madison.com
Exciting festivities, quality gigs, a lively atmosphere, and in a city as vibrant as Madison? No wonder Halloween has and continues to be a staple tradition among students. While recent Halloweens have come and gone relatively peaceful, safety initiatives continue to be taken to create more enjoyable proceedings for everyone. Aside from thinking about how you'll be wowing the crowd with your costume, don't forget to keep in mind some tips and wisdom from past celebrations that ensure a smooth and safe Halloween.
Halloween is one of the busiest times for authorities. Don't let you or your friends fall victim to crimes that are avoidable. If you're going to be drinking, be smart and do so responsibly. This means not accepting beverages from strangers, knowing your limits, and being aware of rules such as not being allowed to have any open intoxicants on the street, even if you are of drinking age. Should you encounter an emergency, such as being the victim of a crime, witnessing criminal activity, or knowing someone in need of medical attention, never be reluctant to call law enforcement due to fear of punishment. Under the university's Responsible Action policy, students who seek immediate assistance in an emergency will be protected from disciplinary action with regards to alcohol consumption.
Costumes and large crowds can make for a chaotic combination, which is why it's particularly important to be aware of safety should you choose to head out onto the streets for celebrations like Freakfest. A particular favorite among students, Freakfest has in the past drawn crowds of up to 35,000. With such an overwhelming figure, don't venture out on your own; go with a group of friends, look out for each other throughout the night, and return home together safely. A helpful plan would be to designate a meeting time and place in the event that anyone gets separated. You should also familiarize yourselves with UW–Madison's SAFE Nighttime Services. Halloween's double the fun and definitely safer with friends, so don't let anybody get left behind.
Get to you destination aware of essential Halloween street etiquette. Steer clear of poorly-lit areas and try to wear closed-toed shoes to avoid injuries. There are also people out there who may take advantage of being unrecognizable in a costume, so pick a costume that will not obstruct your vision or impede movement. You never know who or what you might run into.
Live in a residence hall? Pay extra attention to special safety measures and regulations that will take place on Halloween weekend. It is likely that policies such as not being allowed to have guests over and having to show your Wiscard for confirmation of residence, will once again be enforced this year. Additionally, House Fellows and UWPD would normally be on hand to check that the halls are safe and sound.
However you're spending Halloween this year, remember that there's never any harm in putting safety first to avoid serious repercussions. There will be plenty of things going on around campus, so choose to celebrate wisely and remember everyone's right to have an enjoyable, fun, and smooth Halloween.