Health care for an underserved student population
Health care for an underserved student population
Being a transgender student on campus may have its challenges, but receiving medical and mental health care doesn't have to be one of them.
Alex Hanna came to the University of Wisconsin-Madison in 2009 for graduate school after completing her bachelor's degree in computer science, mathematics, and sociology at Purdue University. She's a dissertator in the Department of Sociology, and her research focuses on how social media has changed social movement mobilization and politics. Hanna is winding down her six years in Madison this May, when she will earn her Ph.D. In addition to her accomplishments—including a NSF Graduate Research Fellowship—her research program, and teaching responsibilities, another component of Hanna's identity is that she is transgender.
National LGBTQ advocacy group GLAAD estimates that eight percent of Americans personally know someone who is transgender. Transgender students at UW-Madison represent a growing student community that, like their cisgender* peers, have a range of experiences at college that can include unique health care needs that affect their academic performance.
 What is transgender?
At birth, a doctor assigns a sex to a baby based on an examination of external anatomy. For years after, the designation of 'male' or 'female' follows that child—whether it be on a birth certificate, the door of the bathroom they use, or their driver's license—and defines how society perceives and treats that person. But sometimes the sex assigned is wrong and doesn't reflect the person's true gender identity.
An individual's sex is not comprised solely of external genitalia, but of several components including chromosomes, hormones, and reproductive organs. A transgender person is one whose gender identity or gender expression—hair style, clothing choices, voice—does not align with the sex he or she was assigned at birth compared to cisgender* individuals whose gender identity and expression corresponds with their birth certificate. Gender non-conforming (GNC) individuals are those whose gender expression differs from stereotypical cultural expectations of what it means to be male or female.
Hanna began to put together that she was transgender at the age of 27. Throughout the next year, she explored the gender transition process and began to medically transition in early 2014.
University Health Services (UHS), a national leader in medical and mental health services for transgender students, implemented the ACHA Guidelines for Trans-Inclusive College Health Programs to enhance trans students' academic success and mitigate barriers these students face when accessing preventive services, and medical and mental health care.
"If a student is exploring transition, we have them work with UHS on the idea of social transition," says Gabe Javier, Assistant Dean of Students and Director of the UW-Madison LGBT Campus Center.
Javier's office and UHS—in addition to other campus partners—work together to create an overall wellness climate for the UW-Madison LGBTQ community. "There's still not a lot of places LGBTQ people can go to be affirmed in their identities and have their health cared for in the context of their full life," says Javier.
 Sara McKinnon, an assistant professor of     communication arts at UW-Madison, co-authored a   first-of-its-kind study in 2015 with Maurice Gattis, a   UW-Madison professor of social work, that examined   the experiences of trans students in Wisconsin public high schools. Their study included students age 13-24, and while it did not specifically focus on college students, the results showed how trans teens and young adults experienced classroom environments.
"One of the reasons why we can conceptualize that this research is necessary is by addressing the roots and constraints around gender identity and expression and starting with those who are most marginalized, we then make everyone else's life better."
 Mental health and medical care
The American Medical Association says that treatment for gender dysphoria—the diagnosis used to describe people who experience significant distress with the sex and gender they were assigned at birth—is medically necessary and involves changing the body to align with a person's gender identity. Despite the growing knowledge of the transgender community, access to health care and comfort in seeking out that care remains limited. "It's a group of people who have not been given good enough care for in the past," says Rebecca Byers, a primary care physician at UHS who sees transgender students.
Byers estimates that she has seen 40 to 45 trans students utilizing medical services at UHS. "This is where some people come to initiate treatment." She says that most trans students seen in the UHS Primary Care Clinic are referred from UHS Counseling and Consultation Services after they've participated in a gender identity consultation (GIC), or are referred from the LGBT Campus Center.
UHS began offering trans-inclusive mental health and medical services in 2012, and standards of care were established to not only guide student patients but also providers. To this end, Javier and the LGBT Campus Center conduct intensive training with UHS mental health and primary care providers, including fine-tuning the role of the clinician, advising how to resolve any provider dissidence, and developing strong therapeutic discretion. Javier says the UHS trainings—and similar trainings around campus—are a direct service to not only the trans student community but also to faculty, staff, and students on campus to help raise trans competency on campus and increase the capacity of UHS providers and staff to better serve trans and GNC students.
Javier says students are comforted to know that UHS and UW-Madison have standard protocols in place to treat trans students and help facilitate their needs. This often begins with a GIC to explore any gender identity issues a student may experience. "Trans people are so used to saying 'What do I need to know? Who do I need to talk to?' For an institution to be so transparent, is the right thing to do."
During a GIC, a student meets with one of the four providers trained in performing the consultation and providing the appropriate counseling to discuss the extent that the student has examined their gender identity and identify supports the student will need throughout their journey.
"It's not a screening process, it's to facilitate the process of transitioning," says Jeff Hird, a senior psychologist at UHS. "There are times when students want to transition and have been working toward that for many years but haven't thought about the consequences of their transition and the challenges that come with that."
"It was nice not to encounter that 'gatekeeper' element where it can creep up in so many other areas," says Hanna of her gender identity consultation at UHS.
The result of this consultation is typically a letter in support of a student beginning hormone replacement therapy if that is what the student chooses to do.
UHS providers also help transitioning students prepare and cope with tensions they may experience in the classroom or on campus.
"If a student walks into a classroom and doesn't have a sense of belonging or feels like people are trying to categorize them, it can create an unwelcome, sometimes an unsafe environment. How is a student able to thrive if their seat in lecture doesn't feel safe?" says Hird.
"This is a very vulnerable group and at a base level, it's about the survivability of a really important community at UW-Madison," says McKinnon.
Hird has seen an increase in trans students who utilize UHS services in the last three years, including Hanna, who began transition care with an interpersonal process group and then worked with a therapist one-on-one. But despite outreach efforts to this population, disparities still exist among transgender students with regard to greater mental health concerns and higher suicide rates.
Hird says that the struggle for someone who is trans may include self-questioning, which can lead to depression, anxiety, and substance abuse and contribute to academic challenges. "If someone is depressed, that's going to play a role in their studying, getting up and going to class. If we're talking about someone who is a person of color, those are intersecting identities on a predominantly white campus. The challenges build."
To help foster a community of acceptance and tolerance, UHS has hosted an LGBTQ drop-in support group for more than 10 years. It's a regularly occurring group, facilitated by trained providers, for students who are looking for connection, understanding, and clarification in their gender identity. The group provides a space to talk openly and find emotional support for students who do not feel validated.
"Being able to have a voice where you feel supported is really important," says Hird.
Just as a birth certificate travels with you throughout your life, so does the letter of support that students receive after their GIC. "It's a way to assess a student's readiness for the changes that are going to occur from being on hormones," says Byers, who prescribes hormones to trans students, which is the most common medical service utilized by this student community. Javier notes this is a unique service model offered by few other campus health centers across the country.
"I've had patients who were on hormones and brought a letter from their existing provider to continue care while on campus. Others don't know that UHS provides these services," says Byers.
Byers says that the hormones prescribed to trans students for hormone replacement therapy are the same hormones prescribed to cisgender individuals for common medical conditions. Estrogen and progestin are the main hormones in oral contraceptives (birth control pills). Estrogen is sometimes prescribed to cisgender women to help lessen menopausal symptoms, while testosterone can be considered for cisgender men who experience low testosterone levels.
"This should be routine care. All students should be able to get routine care for their medical needs as a given rather than the exception. We are trying to provide a standard of care for every student and this is one area where students have been neglected."
For trans students interested in gender affirming surgery, Byers says UHS physicians can refer students to specialists to discuss the process and potential outcomes, as well as a local surgeon who performs gender-affirming surgery.
Insurance
According to GLAAD, private insurance companies often tag transition-related medical care with "transgender exclusion clauses" making access to care difficult, if not impossible. This exclusion exists in the health insurance plans for state of Wisconsin and Dane County employees. Several states have ruled that these exclusions are discriminatory under Title IX and have made it illegal to mandate them. Recently, the Department of Health and Human Services ruled that insurance companies that receive federal funds cannot discriminate based on gender identity.
"We know that trans students, faculty, and staff are underinsured or uninsured and unable to access appropriate medical care," says Javier.
Students enrolled in UW-Madison's Student Health Insurance Program (SHIP) are covered for non-surgical therapy related to transition, including hormone therapy and counseling. SHIP also covers affirming surgery, up to $25,000.
 On campus
The 2010 State of Higher Education for Lesbian, Gay, Bisexual and Transgender Students survey—part of the National College Climate Survey—showed that 39 percent of transfeminine respondents and 31 percent of gender non-conforming respondents reported experiencing harassment, compared to 20 percent of cisgender men and 19 percent of cisgender women.
"We know, and data shows us, that trans students are more often the victims and targets of harassment and because of their gender," says Javier.
Hanna hasn't had that experience at UW-Madison, but attributes that to the fact that she came here as a graduate student. However, she did teach as she began her transition. "I didn't disclose that I was trans to the students at that time, I just dressed more effeminate. I wasn't physically developing from male to female and the students didn't respond to the change." Not that she didn't think about the possible reaction from her students. "It's the perceived fear and anxiety that can produce stress in everyday interactions. It can be a hard thing to overcome."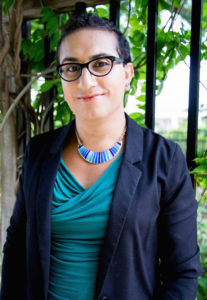 "There are elements of anxiety that have nothing to do with the classroom but come from just walking around presenting yourself in a different way." says Hanna. "One anxiety that is mitigated is that I'm no longer presenting myself in a way that doesn't fit who I am, but then the other anxiety is that I'm presenting myself in a way that's not heteronormative. That also raises tensions."
"As faculty, staff and students are willing to engage in conversations, learn about themselves, give up some of their privilege and entitlements and know what some of their biases and stereotypes are, that can go a long way in reaching out to other people," says Hird.
Hanna spends the majority of her time on campus in the Social Science building or in Vilas Hall. Both buildings have gender neutral bathrooms, but none are located on the floors where she is based. She sometimes has to travel down five or six floors to use the bathroom.
"Bathrooms are a big issue. I tend to use gender neutral restrooms on campus. No one has ever said anything when I've used a woman's restroom but that's definitely a big stressor, especially when I don't have a lot of time and have to get from one place to another."
Hanna is currently interviewing for faculty positions around the country for the next academic year and makes sure to ask each search committee chair if there are gender neutral bathrooms in the buildings where she interviews. So far, the only gender neutral bathrooms have been located in buildings near where her interviews are held. "A campus visit is really stressful already because it's an interview and now you have to think about where to go to the bathroom."
What's in a name?
For the majority of Americans who do not personally know someone who is transgender, Hanna suggests using the same courtesy you would use when meeting any new person and keep in mind how they want to be addressed.
"Ask their preferred pronouns. Using pronouns signals that you respect the person's identity. It may seem like a little thing but it's actually a big deal. If you screw up, you screw up. Apologize and then use the right pronouns next time."
McKinnon agrees. "Interactions between people matter a lot. So much of the work we have to do is at an interpersonal level." She suggests that interpersonal and structural changes at the campus level can help make it possible for trans students to feel more affirmed and experience college in the same ways as their cisgender peers.
One such institutional change is UW-Madison's Preferred Name Policy. In 2013, the UW-Madison Office of the Registrar instituted a preferred name policy so students can indicate how they wish to be identified on campus. Today, more than 4,000 students use the preferred name policy. Javier says that the majority of enrollees are international students, but trans students and students who use a nickname or middle name rather than their legal name are enrolled.
"We know this policy has a deep impact. For those students who are trans, to be able to hear their preferred name called rather than their primary legal name, it starts people off with less psychological dissidence and anxiety in the classroom. Which is what we want."
Hanna also advises to interact with trans students in the present and not focus on their previous identity. "Use the name they give you, don't ask them what their previous name was. Don't ask them about whether or not they've had surgery. These are not hard things to do but they are things that get asked."
McKinnon and Gattis' research showed the effects of trans students not being called by their preferred name. "So many students spoke about the health impacts of misnaming. Being refused recognition as yourself—and how you want people to see you—is mentally, emotionally, and physically challenging."
In addition to the campus preferred name policy, students who utilize MyUHS—a secure online patient portal to schedule appointments, view test results, and receive messages from providers—can select their preferred gender when they set up an account. Current MyUHS options include: female, male, transfemale/MTF, transmale/FTM, transgender, gender non-conforming, and different identity. Students are also able to indicate if their sex assigned at birth differs from their legal sex.
Javier says all UW System schools will adopt expanded gender demographic selection by 2017.
Javier says "We're trying to mitigate the barriers between trans students and their educational experience and help UW-Madison live up to its full commitment to trans students."
Adds McKinnon, "All students should have space to learn to a way that feels most affirming to them. A lot of that is making sure that our institutions addresses the needs of different constituents. When we address the needs of the most vulnerable at an institution, we also make better the lives of everyone else."
Written by Kelsey Anderson, UHS Health Communications Specialist