Healthy eating on campus doesn't have to be hard, you just need to know what to look for
We all remember the food pyramid poster that hung in the school nurse's office that depicted servings of meat, produce, grains and dairy, but fitting in those daily recommendations can be overwhelming. Fear not, there's a simpler formula for students to follow that's friendlier to their lifestyle yet still encourages healthy choices.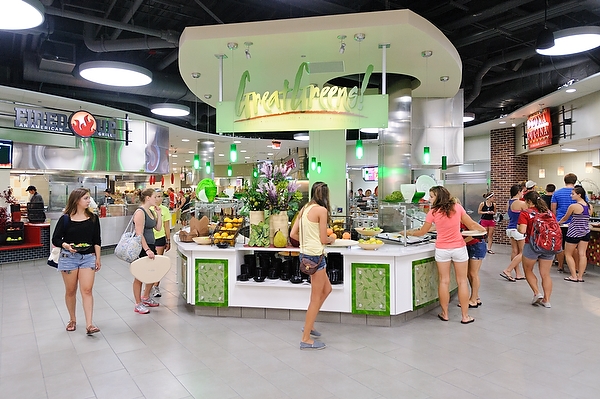 Dining Halls
With six dining locations across campus and endless options at each, there's no shortage of finding a savory snack or tasty meal to satisfy your hunger. Having many choices means that making healthy selections can be a challenge, but establishing a positive relationship with food now can benefit your wellness in college and beyond.
To get started, Denise Bolduc, a dietitian with University Housing Dining and Culinary Services, suggests viewing the menus before coming to a dining marketplace. "Students can plan their meals in advance and put thought into selecting foods that are healthy and balanced." To aid in this, Dining has a handy tool on their website, NetNutrition, which allows you to calculate the nutritional value of foods, plan meals, and identify common food allergens.
Once you're at a dining hall, customized signs by each item provide serving sizes, information on calories, fat, carbs, protein, and common allergens such as nuts, wheat/gluten, or shellfish. Use the color-coded star icons to quickly identify Healthy Choice entrees—15 grams of fat or less— and vegetarian entrees. Keep in mind that entrees generally contain the greatest source of fat in a meal.
Bolduc recommends starting with a base diet of fresh fruits, vegetables, and whole grain products. Add in foods that are generally lower in saturated fats and cholesterol such as lean meats, poultry, fish, beans, eggs, and nuts. But think twice before you pick up that salt shaker. "Students should steer clear of adding salt to their meals because there's already plenty in the foods that we eat."
If you are concerned about your diet or nutrition, make an appointment with a dietitian at University Health Services. University Housing also has registered dietitians on staff who can provide guidance in establishing a nutrition plan.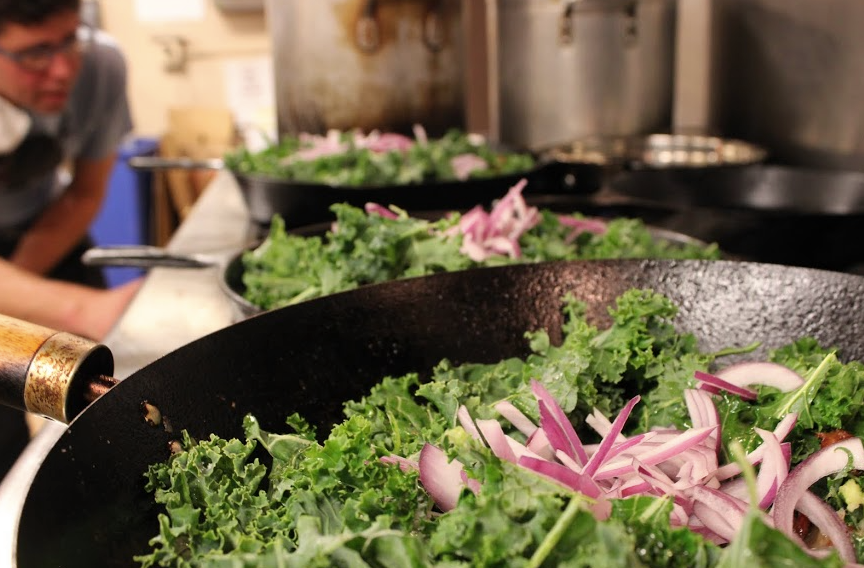 Savoring the Slow Food Movement
Preparing a locally-sourced, healthy meal in a residence hall or an apartment can be tricky—and sometimes pricey on a student budget— but Slow Food UW (SFUW), the UW-Madison student chapter of the international slow food movement, is committed to bringing fresh, local food to the campus community at a reasonable price.
Every Monday evening at The Crossing, SFUW partners with a different local restaurant for Family Dinner Night. For $5, students can enjoy a three-course home-cooked meal that highlights food grown in Wisconsin. Walk-ins are welcome until the room reaches capacity but reservations can also be made by joining the SFUW listserve. The Slow Food Café is open for lunch on Wednesdays (also at The Crossing). This student-run café has limited hours but serves locally-sourced, sustainable items priced from $5 to $8.
If you want to start a slow food movement in your own kitchen but you're not sure what to do with the Swiss chard and parsnips in your refrigerator, fear not. There's a SFUW program for that.
If you thought living in a residence hall limits your options for healthy, sustainable meals, think again. The Dormant Chef hosts cooking classes tailored to creating healthy meals in even the smallest kitchen
Cook-to-Connect offers workshops for both beginner and experienced cooks on campus to promote the joy of cooking.
Recipes for Change partners with UW student organizations to plan group dinners and facilitate conversation about community and environmental issues amongst group members.
Fresh, Free Produce
Each Friday afternoon, throughout the summer and fall, a line forms in front of UHS on East Campus Mall made up of students and campus community members who are eager to indulge in fresh, local produce. Harvest Handouts, run by the student organization F.H. King Students for Sustainable Agriculture, delivers high-quality, sustainably grown produce on a first-come, first-serve basis free of charge.
"This is a way of providing students with fresh, free produce," says Morgan Menke, F.H. King's administrative director and an undergraduate majoring in Community and Nonprofit Leadership. "It's also an opportunity to educate students about the benefits of sustainable agriculture and new types of vegetables and ways to cook them."
Leafy greens including lettuce, kale, and spinach as well as root crops such as beets and radishes are available early in the growing season (June and July). As the bounty increases later in the summer, green beans, cucumbers, broccoli, zucchini, and a variety of herbs are available.
Harvest Handouts is set up outside of 333 East Campus Mall on Fridays beginning at 1 p.m. and distributes produce until it's gone.