SAFEwalk means you never have to walk alone
One of the best parts about the UW-Madison campus is that most things—from classes to restaurants to Camp Randall—are within walking distance. Whether you take the Lakeshore path to the Union or stroll down State Street, you can get just about anywhere on campus by foot. But there's no need to walk alone. SAFEwalk, a free service available to all UW students, faculty, and campus guests, is available to escort you throughout campus if you don't feel safe walking by yourself at night.
SAFEwalk operates in two-person student teams with four teams available on campus each night. To use SAFEwalk, call 608-262-5000 and provide your first name and your UW student ID number to a student dispatcher. If you are within the SAFEwalk boundaries, the dispatcher will send a team to your location. If you feel you are in a dangerous situation, you should dial 9-1-1 immediately.
Kate Moran, SAFEwalk Nighttime Services Coordinator, says that SAFEwalk works to reach new students, international students, and students who haven't formed extended social networks yet.
"We serve the students who need someone right now or until they've made friends."
Moran adds that because SAFEwalk is student-run, the walkers are committed to helping their fellow students and campus community members. "[They're] very good with their peers and are committed to safe travel."
In addition to walking students who have a class that ends late or who work odd hours, Moran stresses that students should feel comfortable calling SAFEwalk even if they've been drinking.
"If you or one of your friends has been drinking, call SAFEwalk," says Moran. "It's a good way to watch out for each other."
Moran says that students who have used SAFEwalk once are more likely to use it again.
"No one should have to walk alone," says Moran. "We're all Badgers and we need to look out for each other."
SAFEwalk escorts complete training with the UW-Madison Police Department and are able to assist in a variety of situations. Each team carries a two-way radio that can serve as mobile emergency phones between UWPD and SAFEwalk dispatchers. SAFEwalkers also promote campus safety by reporting lights that are burned out and watching for suspicious activity.
In addition to SAFEwalk, there are other nighttime safety provisions in place to help students. The UW Campus Lightway is a network of well-lighted sidewalks and pedestrian paths marked with reflective signs and more than 60 emergency telephones marked with blue lights are positioned throughout campus.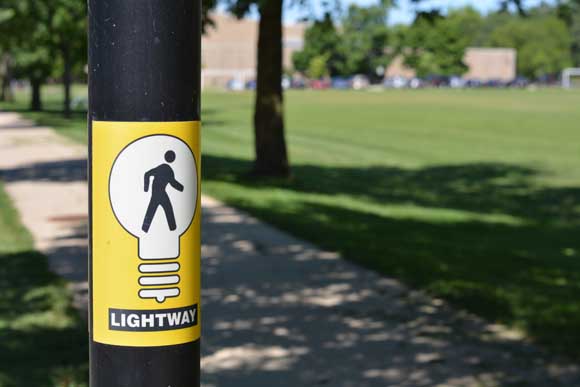 The UW-Madison Police Department offers these nighttime safety tips:
When you go out, consider going out as part of a group. People tend to intervene in situations when they have friends who will back them up.
Be mindful of how you feel before going out. Try to keep a clear mind before consuming alcohol and other drugs.
Use a safe means of getting home such as SAFEWalk, a trusted friend, or taxi, and encourage others to do the same.
If you're a bystander and see someone behaving in a way that seems suspicious, step in and do something. If you don't feel comfortable or safe confronting the person, call 911.
Direct, distract, delegate, delay: There are many ways to intervene if someone is behaving suspicious or predatory. You can be direct and say something to the person. Distract their attention away from the situation or delegate your friends to act as a group. A delayed intervention, like asking the person involved if they're OK, is also a way to show your concern.
If you witness something that doesn't feel right, you can help by getting involved. Check in and ask, "Hey, do you know this person?" or "Are you OK?"
SAFEwalk – 608-262-5000
SAFEwalk Hours – 7 p.m. – 1 a.m. October – March
8 p.m. – 1 a.m. April – September