Cultural Adjustment: Studying Abroad and Mental Well-being
---
Cultural Adjustment: Studying Abroad and Mental Well-being
For many Badgers, studying abroad is a unique and enriching opportunity. The experiences of living and learning in another culture are varied and immeasurable, and enhance the student experience both academically and personally. While studying abroad is an overall positive experience, acknowledging and facing its potential challenges is crucial to a successful experience.
In addition to checking if you need vaccinations and making a plan for your physical health, it is just as important to consider how studying abroad can impact mental health. Culture shock—or cultural adjustment—describes a typical pattern of behavior and psychological changes seen in individuals adjusting to a new culture. Culture shock can present itself in different ways, including anger, sadness, inadequacy, or isolation.
Cultural adjustment changes and fluctuates over time, explains UHS Director of Psychiatry and Interim Co-Director of Mental Health Services, Angela Janis. "In the beginning, it is common to experience surface level cultural tensions." Following the initial awe and excitement of living in a new and different culture, it is common for this excitement to turn into frustration over navigating everyday differences in minor occurrences, such as dress, etiquette, and popular culture. Laura Bolls, a senior studying human development and family studies, says of her experience studying abroad in Florence, Italy in fall 2015, "I experienced culture shock almost every day. People dress differently, speak different languages, eat different foods, and have different ideas about life than those of the United States."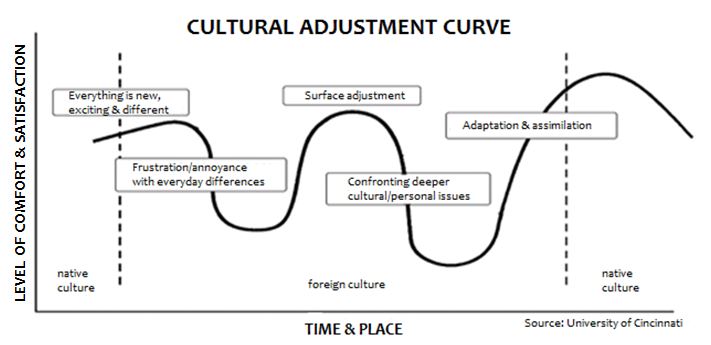 Following a period of assimilation to these cultural level differences, culture shock can arise later in response to more internal societal structures and ways of life. "As students stay longer, deeper issues may arise, such as educational differences, gender roles, and familiar relationships," says Janis.
However, it is important to note that despite common trends, individuals experience and cope with cultural transition differently. "Culture shock is not a trajectory, and individuals can fluctuate between stages," says Janis. Samantha McCabe, an Associate Student Services Coordinator with International Student Services and has experience working with students who may be experiencing adjustment to a new cultural landscape, concurs. "Adjustment is different for everyone," she says. Potential coping strategies can differ.
Lauren Anderson, studied in Kenya and Tanzania in spring 2014, and found fitness to be an effective—and fun—way to work through cultural adjustment. "It was nice knowing that I would be able to stay active, something that had always been important to me at home, and have fun doing it," she says.  Ethan Dowling, who studied abroad in London in spring 2015, also found reminders of home helpful in adapting to life abroad. "To make myself feel better, I would find the most American food I could, get it to-go, and watch a TV show on Netflix that my roommates and I watched back in Madison." In fact, maintaining habits and behaviors from home culture is typically very helpful during times of transition. "It helps to keep a degree of similarity," says McCabe. "Navigating your new culture balanced with your comfort level is key."
Another effective strategy can be to find commonality within the new environment and appreciate its differences. "Values oftentimes carry through one culture to the next," says McCabe. "I found the best way to deal with culture shock was to just embrace it," says Bolls.  "I realized that every country has a different way of doing things, and it's an amazing opportunity to for me to experience that."
A thoughtful balance of embracing new cultures abroad and retaining one's home identity can ease the potential tensions of cultural adjustment. But beyond the typical experience of adjustment, it is important to keep general mental health in mind when studying abroad as well. Other countries may have varying resources or medical practices, so students studying abroad should look into their host institution's support systems prior to departure. "If things get more serious, including increased feelings of isolation, involve as many people as possible," says Janis. Many abroad programs have service coordinators or other individuals who can provide support for these sorts of issues, or can help direct students to other outlets.
As with any kind of distress, opening up and talking to peers about it can provide meaningful comfort. "Connect with each other," says Janis, speaking to students abroad. "Likely, you're not the only one. It can be validating."
Fully appreciating  cultural adjustment allows students to maximize their growth and learning while away. "Before leaving for abroad, I thought every day would be a magical one," says Anderson. "But just like back home, you have good days and bad days. It was important for me, while I was away, to remember who I was and incorporate those values into my lifestyle abroad."
Written by Gina Nerone, UHS Web and Communications Assistant
---