Here and listening
UHS hires mental health co-directors
Angela Janis, MD, and Andrea Lawson, LCSW, were appointed in May as Co-Directors of Mental Health Services at University Health Services (UHS). Working together and in collaboration with other UHS departments and campus and community partners, Janis and Lawson will lead psychiatry and counseling services at UHS.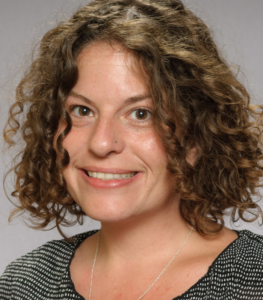 Janis initially came to UHS as a medical resident during a clinical rotation. Her enthusiasm for working with the student population drew her back in 2014 as a staff provider. "Students are so resilient," says Janis. "The skills they learn to navigate mental health can have long lasting impacts they take with them for the rest of their lives."
Lawson also joined UHS in 2014. She finds working with the student population energizing and fulfilling. "I enjoy partnering with students to take steps toward living more fully into their potential."
Janis and Lawson both share a passion for public health, and recognize factors that impact student wellbeing span beyond the health care setting, including housing, finances, and food insecurity. "A college campus is a really unique place where we work together to manage the environmental factor," says Lawson. A shared goal in their new roles as co-directors is to build bridges between units at UHS, as well as other campus departments, and move toward a more proactive and preventative model.
One way Janis and Lawson plan to lead their team toward adopting a greater preventative presence is by expanding UHS's campus-based services, led by Associate Director Simone Collins, PhD, which includes programs such as Let's Talk, a drop-in program where students can confidentially meet with counselors in various campus locations beyond the clinic. "We want to expand our reach," says Janis. "We want to reach people who perhaps wouldn't walk through our doors otherwise, and tell them about our services before they even need them."
Another component of this goal is to expand mental health outreach and wellness services across campus. "We both believe in outreach as intervention," says Lawson. "By showing up in spaces were students are already comfortable, students can connect with us in a different way and learn tools and skills to be mentally healthy, rather than just coming into the clinic when they are struggling."
Accessibility and meeting the high and varying demand of student need for mental health services is a challenge that Janis and Lawson are prepared for. "We plan to change our services and access model to meet a broader range of students' needs," says Janis.
This fall, online tools and eHealth modules, which students can access at any time, will be added to UHS' mental health service model. "We are using student feedback to be really intentional about matching our system to the students' needs," says Lawson. "We are here," says Janis. "And we are listening."
Written by Gina Nerone, UHS Web and Communications Assistant