Expanded violence prevention programs aim to change behaviors, attitudes
Expanded violence prevention programs aim to change behaviors, attitudes
Starting in the 2016 fall semester, University Health Services (UHS) will be rolling out two new violence prevention programs designed to equip incoming students with information about gender-based violence and how to prevent it. Graduate and professional students will be expected to complete a new online program. Incoming undergraduate students, who have required to complete an online prevention program, will now also be required to participate in an in-person educational session of their choosing.
These new services are part of an expanded, comprehensive approach to equip the campus community with the knowledge and skills to intervene in potentially dangerous situations, information about where students can get help or report, and reinforce that UW-Madison does not tolerate sexual harassment, sexual assault, and intimate partner violence. The programs help to fulfill requirements of the Clery Act, respond to gaps identified in UW-Madison's participation in the 2015 Association of Academic Universities (AAU) Campus Climate Survey on Sexual Assault and Sexual Misconduct, and are responsive to the student feedback and input.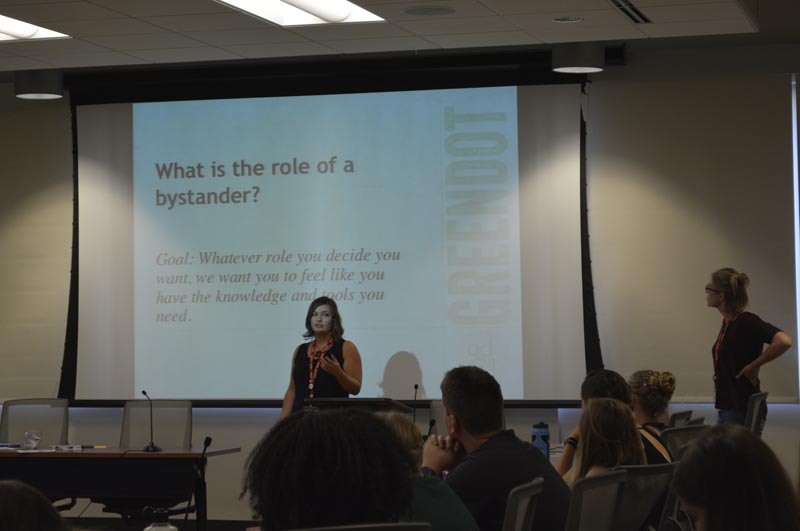 Since 2013, all incoming first-year and transfer students have been required to complete Tonight, an online sexual violence prevention program. Tonight empowers students to make healthy decisions, intervene in difficult situations, and learn about campus resources for student victims and survivors. It also addresses barriers that students may face in seeking help after an assault or because of dating violence. Since the implementation of the online program, campus has seen an overall increase in the student knowledge and capacity to intervene, indicating that required first-year prevention programs are having a positive impact. "We know there's still a significant issue with campus climate and students affected by violence," says Molly Zemke, a violence prevention specialist at UHS.
To promote longer-term effects of the Tonight program, students will now choose a second, in-person prevention program from a suite of workshops that builds on those themes.
"Tonight is an important universal first step for incoming students to get initial exposure and a common understanding of definitions as they first arrive on campus; we also heard from students that they wanted a chance to discuss these topics with their peers after they got to campus. Adding an in-person component facilitates discussion and interaction," adds Zemke. "Best practices show that multiple 'doses' of education is where you'll see lasting changes in knowledge, attitudes, and behaviors."
After completing Tonight, undergraduate students will receive an email about the second requirement with instructions for participation. Workshop options include:
A choice of three discussions—SexWise, DatingWise, and ListenWise—that provide students with the opportunity to engage in dialogue on the topics of healthy sexuality, healthy relationships, and how to support survivors, all facilitated by trained UHS peer educators.
Performances by Sex Signals—a national touring theater company—will examine culture, sex, and bystander intervention on college campuses, one of which will be held at the Overture Center.
A training using the Green Dot framework designed for student leaders who want to address power-based personal violence community. All new members of social fraternities and sororities will participate in a Green Dot session. Green Dot is a nationally recognized, evidence-based bystander intervention strategy.
UHS—which coordinates the programming—is working with the LGBT Campus Center and the Multicultural Student Center to offer workshops for LGBT students and students of color who wish to participate with members of their communities. UHS is also working to create spaces for transfer and international students to feel comfortable participating. In addition, University Housing is coordinating with UHS to bring workshops to residence halls.
"We want to be flexible and meet students where they're at," says Zemke.
Student participation will be verified through WisCard readers or sign in at each session. There will be registration holds placed on the academic records of students who do not complete one or both parts of the violence prevention requirement.
In addition to undergraduate students, graduate and professional students will be expected to complete a new online program tailored toward their unique experiences on campus.
Alissa Ewer, assistant dean for professional development and communications in the Graduate School, says the AAU survey also showed that graduate students aren't equipped with adequate knowledge about campus resources and reporting options related to sexual violence.
To address what Zemke referred to as a "a gap in education," UHS piloted an online program in 2015 and collected feedback for more than a year to gather feedback and improve the service to best meet the unique needs of adult learners.
The result is a new online learning module that increases graduate students' knowledge and understanding of dating violence, sexual assault, stalking, and sexual harassment in addition to effective prevention strategies and campus policies to prevent violence and promote health and safety.
"This is an important step toward helping all graduate students understand the problem of sexual violence," says Ewer.
More than 7,000 new and current students will receive notification through each graduate and professional program including the Schools of Nursing, Pharmacy, Veterinary Medicine, Medicine and Public Health, the Law School, and the Graduate School. In addition to direct messaging to graduate students before the semester begins, the Graduate School will integrate information about services and resources into onboarding activities for new students and outreach efforts across campus.
"This new program emphasizes that everyone plays a role in preventing sexual violence, which is an important message for all graduate students. It addresses how to support those affected by sexual violence, provides information about reporting options, and educates participants on bystander intervention strategies," says Ewer.
Written by Kelsey Anderson, UHS Health Communications Specialist