The magic of layers: Your complete guide to dressing for winter weather
The freezing temperatures are rolling in, so prepare yourself for this Wisconsin weather with the right type of clothing to maximize your warmth.
Why layer?
When you're doing a combination of activities—standing, walking, sitting, going outside and inside and back outside again—your body regulates its temperature differently. Layering allows you to be comfortable throughout the day as your body temperature and activity level change.
And when the weather's so unpredictable, layers provide the preparation you need for any weird change in temperature.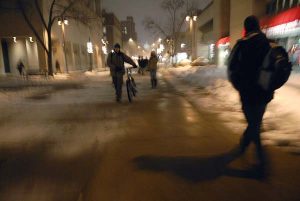 How: The Layering Basics
Keeping your core warm is key, since this is the area that generates heat for your vital organs.
Base: a thin layer that fits your body. It works to wick away any sweat and moisture that would otherwise suck up your body heat.
Mid: your normal outfit, whether that's a long sleeved shirt or sweater.
Insulation: keeps your body heat in, and serves as your main source of warmth, like a fleece jacket or down vest. Some parkas even come with a built in insulation layer
Shell: protects you from the elements, like wind, snow or rain. It's the last layer of protection between you and Mother Nature.
Don't forget about those extremities! They're the first to get cold, since they're farthest from your heart and therefore harder to get blood out to. Plus, they don't have any protecting muscle or fat for insulation.
Get your hands in some gloves or mitten : Hand warmers are also great for keeping your fingers and toes toasty
And get your feet in some socks and waterproof boots: Your feet are the farthest from your heart, so they're the hardest for your body to keep warm. Wool socks are the best material for wicking away moisture and holding in heat. And when you'[re boot shopping, look for waterproof and insulated ones to keep the warmth in and the cold air, mud and sleet out.
Hats, headbands earmuffs: You lose the most heat out of your head, not to mention your ears are usually the first parts to freeze since their nerves don't have much protection.
The right stuff!
Get the most out of your layers by using materials that work to keep body heat in while wicking away sweat and moisture.
Avoid cotton: it doesn't insulate well, and when wet causes rapid loss of body heat
Wool, silk and performance fabrics are ideal
Down is a great option too, but only in dry conditions. Get your down coat wet and you won't be warm for long.
There you have it: your complete list of all things winter-wear. Bundle up, stay warm and show winter who's boss!