Foundations of sexual violence
At the University of Wisconsin-Madison, most Badgers know that there are certain jokes that cross the line. Regardless, many of us still go along with the sexist, homophobic, gender-based, or otherwise derogatory jokes that people around us make, most often for reasons of social preservation.
While it is important to know how to intervene and challenge these situations, it is equally important to understand why sexist jokes and language have serious implications. The structure of sexual violence can be thought of as a pyramid with the foundation of violence grounded in jokes that dehumanize, "other," or mock genders.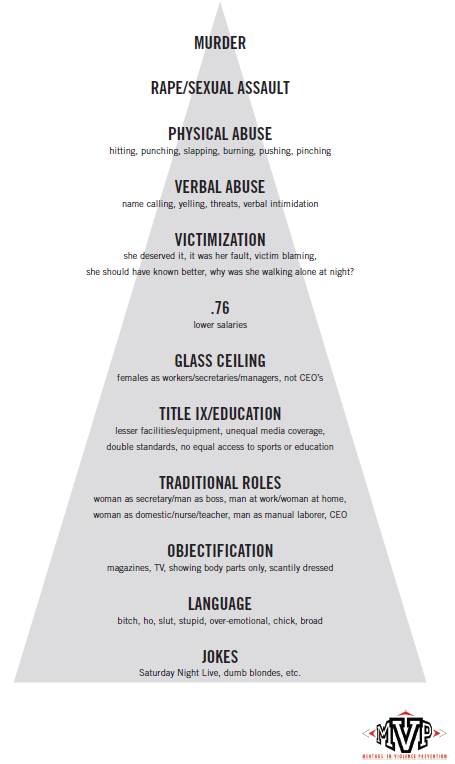 Offensive jokes, degrading language, and objectification facilitate an environment in which acts of violence such as rape, abuse, and assault become more permissive. Although jokes and language may not directly cause violence, they do affect how we see the issue—from how we treat survivors to the structure of our legal system. An environment in which jokes about the inferiority of women or the dominance of men are commonplace can normalize acts of violence.
By taking away the power at the base of the pyramid, it makes it harder for the acts at the top to manifest. It starts with changing our culture and creating a space that is not conducive to violence. We need to clean the cracks, pick the weeds, and scrub the floors until we create an environment where it's difficult for roots of violence to take hold in the first place.
The easiest place to start is within your own friend group. You might have that one friend or group of friends that thinks they need to be the party's jester and resort to cheap jokes. If that person truly is your friend, say something about it. You hold a level of respect and a friend is more likely to listen to you. Let that person know that you are not okay with what is being said and you think they should stop—it's embarrassing to make jokes of that nature.
When it comes to situations where you don't know the person making an inappropriate or crude joke: use your best judgement. If you're not sure how the person will react to direct confrontation, make a point by not laughing, leaving the conversation, or changing the subject. In any instance, do not make it seem that you are okay with it.
From there, it's possible to extend your skills to embody all forms of inclusiveness. Work to create an environment of safety and comfort for not just all genders but also all sexual orientations, races, and intersectional identities.
Written by McKenna Gramoll, UHS EVOC Project Assistant. Gramoll is a sophomore majoring in Strategic Communications.