Sara Bannon
APNP, LCSW
Psychiatric Mental Health Nurse Practitioner
education

Bachelor of Science in Nursing, University of Utah

education

Master of Social Work, University of Utah

education

Doctor of Nursing Practice, University of Wisconsin-Madison

education

ANCC Psychiatric Mental Health Nurse Practitioner

skill

Advanced Practice Nurse Prescriber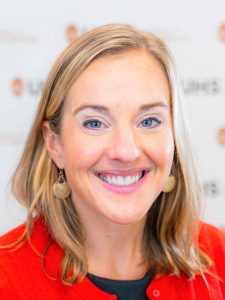 Bannon had the opportunity to be at UHS during her last year of clinical in the nurse practitioner program at UW-Madison and joined the psychiatry team in August 2019.
Bannon is passionate about providing mental health and psychiatry services to college students. College is a complex and often challenging time for students. She believes that having access to services provided at UHS is important to support students with navigating and managing different challenges that may arise.
Prior to going into nursing, Bannon worked as a licensed clinical social worker in an array of different settings providing individual and group counseling to youth and adults. Bannon's professional interests include depression and mood disorders, anxiety disorders, obsessive compulsive disorder, substance use, and trauma.
In her free time, Bannon enjoys running, biking, hiking and many other outdoor activities.