Chanda Bolander
LMSW
Eating Disorder Coordinator
Education

BA, Advertising, Michigan State University

Education

MSW, Clinical Social Work, Michigan State University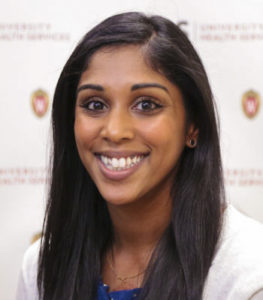 Chanda Bolander's interest in social work turned toward college health when a faculty member and mentor recommended her for a fellowship at Michigan State's Student Health Center, there she found her niche and passion.
"College students are at a vital time in their life where they're developing who they are. It's exciting to get on board and be able to help students during this period in their lives."
Bolander serves as the Eating Disorder Coordinator, connecting each student who comes to UHS for disordered eating assessment and brief treatment; students are then linked to a therapist, nutritionist, and medical provider as needed.  Bolander's other professional interest include working with underrepresented and first-generation college students, women's empowerment, and working within an integrated care model.
"I remember what it was like to be in college and I understand the transition and challenges that some students may experience navigating a new area and a new system. Now, as a professional, I have a greater understanding of how I can assist students during this time in their life."