Quincy Dillard
Credentials: MS, LPC/IT
Position title: Associate Counselor, LGBTQ+ focused provider
Pronouns

they/them

Education

MS, University of Wisconsin-Madison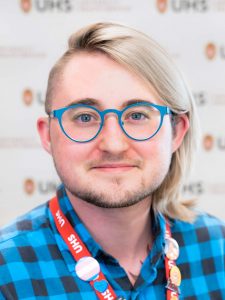 Quincy Dillard works with LBGTQ+ students in Mental Health Services. While working toward their graduate degree at UW–Madison, Dillard was an intern at Mental Health Services, so they're familiar with UHS support groups like the LGBTQ+ and transgender support group.
Dillard invests their time into making LBGTQ+ students feel supported and welcomed. Dillard enjoyed their time as an intern and wanted to continue working specifically with students. "Having access to a student population also means having access to a lot of LGBT students who need somebody specifically interested and trained and invested in treating LGBT students. It seemed like a good fit to be able to do what I really enjoy professionally."
As someone who identifies as transmasculine and non-binary, Dillard says they share many identities that students identify with and relate to. Dillard says they fall under many of the letters in the LBGTQ+ spectrum.
Their goal is to meet with students, figure out what it is they are looking to address and what their goals are, and then help them grow a support system that will help them move forward.
Dillard wants to be genuine and transparent in all their work. "My whole perspective is on connecting with people and helping those people connect with other folks, so my whole plan is generally to facilitate the ability for students to create connections in their life beyond the therapeutic space."