Robyne Gunderson
Position title: Medical Assistant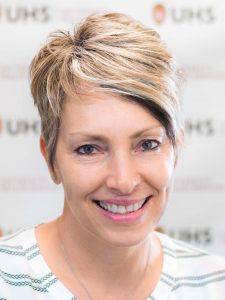 Helping students and staff with immunizations, TB and other skin tests, and respirator fittings, are some of Gunderson's main responsibilities at UHS.
After working in Women's Health at UHS from 2010-2014, Gunderson transitioned to occupational medicine at the end of June 2018.
In her work for the "fit test," she ensures students aren't inhaling any harmful substances, specifically for students working in animal labs or with gases. She makes sure their respirator fits them well.
"I enjoy listening to the research people are doing, and meeting such a diverse population of people," Gunderson said.
She also likes learning about student's futures. She said UW-Madison is a fun school with a beautiful campus.
"It's just so exciting. Every person that comes in has such a great story," Gunderson said.