Haley Pierson
MS, LPC, SAC-IT
Psychology Intern
Education

BA, East Carolina University

Education

MS, East Carolina University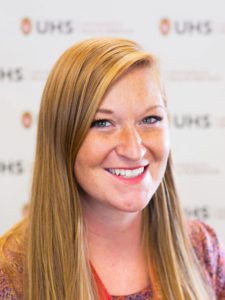 As a psychology intern, Haley Pierson (she, her, hers), is interested in working with clients to address issues related to multiculturalism, safety concerns, depression, interpersonal relationships, identity development, phase of life concerns, and perfectionism. Pierson provides individual and group therapy, as well as outreach services.
Haley is delighted at the opportunity to complete her one-year internship training at UW-Madison, working with college students. Haley has engaged on a college campus in several ways including: orientation, housing, student employment services, Dean of Students Office, and college counseling.
"This is an exciting and dynamic time in students' lives, which also require the balance of various life roles and transitions," Pierson says. "I am humbly grateful to every student who allows me the opportunity to share in this time and space, working alongside them, as they forge their paths and shape their identities."
In Haley's free time she enjoys exploring Madison, meeting new people, and traveling to visit family and friends.