Hayley Reese
Credentials: AEMT
Position title: EMT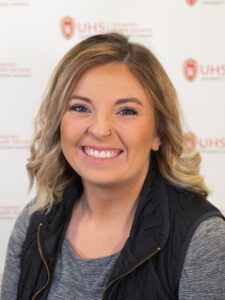 Hayley Reese started working at UHS in 2022. Reese joined UHS during the COVID-19 pandemic to help administer vaccines.
"I loved the atmosphere so much that I looked for a permanent position to continue working here!"
Outside of work, Reese enjoys playing with her dogs – Pippa and Grim. Reese also likes going to the movies with her husband, and bartending Badger game days at Lucky's on Regent Street.