Merrill Reiter
Credentials: MS, PhD
Position title: Postdoctoral Resident
Education

BA, University of Missouri – Columbia

Education

MS, Loyola University Maryland

Education

PhD, Oklahoma State University

Education

Internship, George Mason University Counseling and Psychological Services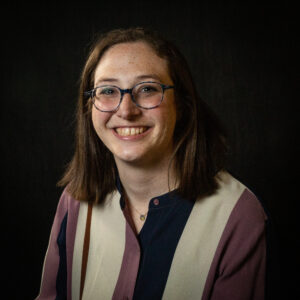 Merrill's emphasis area is transgender and gender nonconforming care. As a Postdoctoral Resident, Merrill will co-facilitate groups, provide individual counseling, and participate in the development and implementation of outreach programming. Personally, and professionally, she is invested in outreach and advocacy efforts, specifically surrounding supporting students who hold marginalized identities, suicide prevention and intervention, reducing mental health stigma, and providing resources to underserved populations.
Merrill welcomes the opportunity to work with any student, but her specific clinical interests include those managing concerns related to internal, societal, and familial relationships; phase of life transitions; and exploring their identities and/or experiencing concerns related to one's identity, (including but not limited to, race/ethnicity, sexual orientation, gender, religion, ability, relationship structure, immigration status, and/or bicultural identity). Regardless of presenting concerns her approach is grounded in social justice frameworks, multicultural awareness, and feminist ideologies.
Merrill understands that college and/or graduate school can be a transformative experience, one that is filled with uncertainty and unique challenges. She works to create an environment that allows students to feel comfortable engaging in self-reflection and being vulnerable. She hopes the experience of counseling will not only be helpful by providing concrete skills, but destigmatizing, empowering, and restorative as well.