Shane Sommers
Position title: Masters in Counseling Practicum Intern
Address:
he/him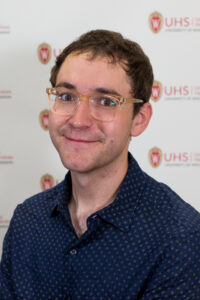 Shane Sommers joined UHS in 2022 and has worked in helping professions for most of his adult life. From providing play therapy to kids on the autism spectrum, to caring for folks of all ages as a CNA, to his recent work in crisis intervention and suicide prevention, he has seen that a trusting relationship is often the crucial factor in healing and growth.  
Sommers aims to honor students' identity and unique history as he helps them navigate the challenges in their lives.   
In his free time, Sommers enjoys hiking with his dog Levi, roller skating, reading, and playing music with friends.