Alecia Sundsmo
PsyD
Clinical Director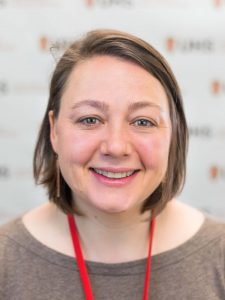 BA, Sewanee
MS, Pacific University
PsyD, Pacific University
Sundsmo plays many roles at UHS, including leading the access team, overseeing the counselor on-call rotation, supervising clinical staff, and organizing the day-to-day clinic operations for counseling services.
Sundsmo worked at four other institutions of higher education before coming to UW in September of 2017 as the Clinical Director of Mental Health Services for UHS.
While she continues to enjoy working directly with students, Sundsmo is excited about her role in overseeing how students are connected to Mental Health Services. She explains at an institution as large as UW, it is important to understand how UHS resources can best be used to help students.
Sundsmo thinks of the campus as a whole and how it can meet the needs of the students. She makes sure to see that both undergraduate and graduate students can focus on their education and bettering themselves at the same time.