Katrina Welborn
Position title: Masters in Counseling Practicum Intern
Address:
she/her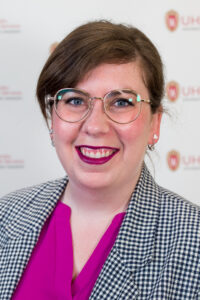 Katrina Welborn joined UHS in 2022, and is interested in life transitions, anxiety & depression, trauma informed care across the adult lifespan, and chronic illness and its impact on mental health. She is excited to connect with students from all background in individual and group therapy settings.  
Welborn previously worked as a Director of Music and Worship, and taught conducting at St. Mary-of-the-Woods College. Welborn has also worked as a Fertility Care Practitioner, which focuses on fertility, reproductive, and medical-related concerns.  
Outside of UHS, Welborn enjoys riding her bike, walking near the lake, and snuggling her cats.