Elizabeth Wescott-Barten
Credentials: LPC
Position title: Access Specialist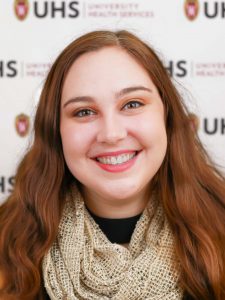 BA, University of Wisconsin-Stevens Point
MS, Marquette University
Before joining UHS, Liz Wescott-Barten worked as a counselor at Froedtert and the Medical College of Wisconsin's Community Memorial Hospital. In her role as an Access Specialist, she assists students in finding campus and community mental health resources that will best serve them and their needs.
Wescott-Barten says working with college-age population fits her approach to counseling. "I take a humanistic approach and use a strength-based perspective."
Additionally, she enjoys providing students with a multitude of coping skills to add to their repertoire.
In her free time, Liz likes to walk, paint, and play board games.