Jennifer Yeoward-Dodson
PhD
Doctoral Resident
Education

BS, Illinois College

Education

MS, Illinois State University

Education

PhD, The University of Memphis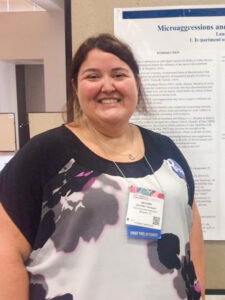 Jennifer Yeoward-Dodson enjoys connecting with student clients who are working through a variety of concerns, including: symptoms of depression, grief and loss (including non-death loss), trauma, gender identity, body image concerns, athletes, and additional multicultural identities.
"There are many changes that are occurring developmentally for students. I enjoy and appreciate that students are willing to let me be a part of their journeys. I hope to be a supportive presence for students on their college journey. I'm looking forward to learning as much from them as they may learn from me."
When not seeing clients, Yeoward-Dodson enjoys spending time with her spouse, family, and friends; listening to music, watching movies, cooking, reading, being outdoors, and traveling to new places. Ask her about Disney, Harry Potter, Doctor Who, animals, and sports!