Molly Zemke
Credentials: MPH
Position title: Violence Prevention Manager
Email: molly.zemke@wisc.edu
Phone: (608) 890-0130
Pronouns

She, Her, Hers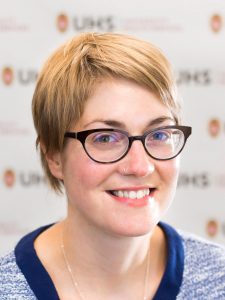 Molly [she/her] supervises the Violence Prevention staff and provides direction for UHS's wide-ranging violence prevention strategies. Strategies include prevention education programs for all incoming students and targeted student groups, partnership building and technical assistance with students, staff and faculty, and support of campus-wide collaborations to prevent violence and support survivors.
Molly co-chairs the UW–Madison Sexual Assault and Dating Violence Coordinating Council which seeks to increase capacity and coordination among the units that work to prevent and respond to sexual and intimate partner violence on campus and in the community. Molly also co-chairs a UHS work group that brings together practitioners in prevention, medical, and mental health services to work on reducing barriers to care for student survivors.
Molly's training and education in public health combined with experience in community-based sexual and domestic violence prevention and advocacy developed her commitment to addressing violence as a public health issue and centering those impacted by violence in our community.