Each spring, UHS hosts Let's Play! as a space for students to come together to re-invest and celebrate the importance of self-care,
while receiving information about mental health and wellbeing resources.
Let's Play 2022: Grow Your Wellbeing
Join us for giveaways, games and activities, information on mental health resources, and more!

The first 200 students to attend will receive a free succulent!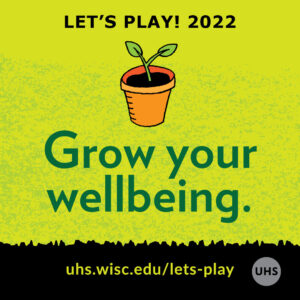 Thursday, April 28, 2022
11 am – 2 pm | East Campus Mall (outside of UHS)