Michelle Bond
Credentials: LPC
Position title: Associate Counselor - Engineering Focus
Pronouns

she/her

Education

BA, Mount Mary University MS, Indiana State University

Education

MS, Indiana State University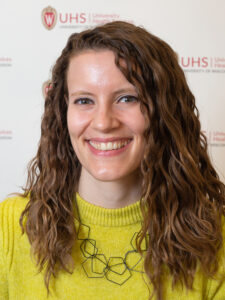 By her own admission, Michelle Bond "talks the talk" of her patients in the UW-Madison School of Engineering. Hired in summer 2017 to work specifically with this population, she shares their interest in table-top gaming and role-playing games.
"There are unique pressures to this field of study," Bond says. These can include a competitive academic environment, demanding performance expectations, and a field that necessitates black and white thinking.
"There is a right answer in engineering," says Bond, "but not necessarily in emotions or experiences."
At UHS, Bond says she is excited to work with this population both individually and in group counseling environments. In her free time, she practices painting and ceramics and enjoys spending time with her dog.