Alicia Bosscher
Credentials: MPH, RDN, CD
Position title: Clinical Dietician
Pronouns: she/her
Education

BS, University of Wisconsin-Madison

Education

MPH, The George Washington University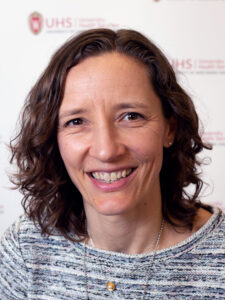 In high school Alicia Bosscher enjoyed playing sports. Looking back now, it is easy for her to see that fueling these activities with good food was just as intriguing as the sports themselves. Moving to Madison to begin a degree in dietetics seemed like the natural choice. It was during her undergraduate years when Bosscher discovered the joy of cooking and trying new foods.
Following a fulfilling and busy four years at UW-Madison, Bosscher completed a dietetic internship in Colorado. During the internship she developed an interest in international nutrition and HIV/AIDS, which prompted her travel to India and Uganda in pursuit of a public health degree. After completing her graduate work in Washington D.C., family beckoned her home to Wisconsin, and she spent many years at UW Health specializing in sports nutrition, weight management and cardiology. Bosscher joined UHS in 2018.
She enjoys the hope and optimism that seems to pour out of college campuses, and she loves partnering with students who are looking to find balance in their eating habits amidst a busy school schedule. Bosscher has learned that nutrition concerns often go beyond 'what we eat,' and as a result, she enjoys reading about and practicing intuitive eating, especially as a way to move towards balance or overall wellness.
Bosscher still enjoys cooking (now for a family of five!) and trying new foods, and in her free time enjoys biking, running and playing ultimate Frisbee.