Geoffrey T Brown Jr.
Credentials: MA, LPC, SUDS
Position title: Mental Health Provider
Pronouns: he/him
Education

BS, Valparaiso University

Education

MA, Valparaiso University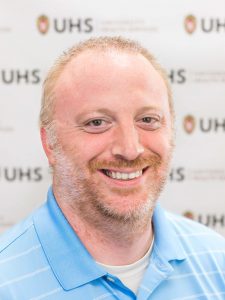 Geoff Brown joined UHS in 2018 and enjoys working with college students because they are in a period of transitional and developmental growth, which can be uncomfortable or overwhelming. Brown loves "helping students find and use their strengths to navigate these challenges, supporting them through difficult times, and celebrating the jobs of self-discovery and success."
As a counselor who focuses on both substance use and mental health concerns, Brown is well-attuned to the ways in which substances can complicate someone's journey to mental health and well-being. Brown helps students find the ways that work for them in reducing the harms that can be caused by substances.
Outside of work, Brown enjoys sports, baseball in particular, and music; as a matter of fact, he had a sizeable baseball card collection when he was younger, and now has a sizeable record collection.