Molly Caradonna
Credentials: PsyD
Position title: Director of Survivor Services
Pronouns

she/her

education

PsyD, Adler University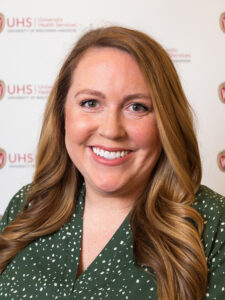 Molly Caradonna specializes in working with survivors of trauma and with those experiencing eating disorders, anxiety, shame/perfectionism, and identity development. In her role at UHS and in Survivor Services she provides individual therapy, facilitates group therapy, and completes specialized eating disorder assessments.
Within the therapeutic relationship, Caradonna is passionate about untangling the complex web of internal, societal, and relational experiences that commonly underlie psychological challenges, while also providing concrete skills to improve one's quality of life.  She values mind-body approaches to healing, which are a natural fit for work with eating disorders, trauma, and anxiety.  Self-compassion, authenticity, collaboration, and humor are important tools incorporated into the therapeutic process. Caradonna abides by all these values in her work.
"Working towards social justice and giving ourselves permission to pursue our own healing and life satisfaction, even when unpopular, are important tenants that I hold," Caradonna says.
She recognizes that the experience of being in a college setting fosters opportunities for self-exploration, both solidifying what you have already come to know about yourself, while also experimenting with different ways of showing up in your life to discover what will work best for you.
"I am honored to share in this work with students and to witness their stories of vulnerability and growth," she says.