Geetanjali Deole
Credentials: MS
Position title: Mental Health Provider
Pronouns

she/her

Education

Masters, Indian Institute of Technology, Dhanbad, India

Education

Master in Counseling, University of Wisconsin-Madison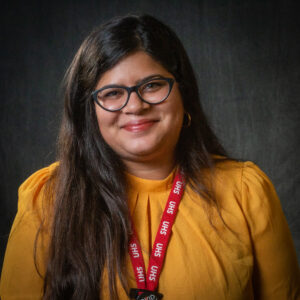 Geetanjali Deole serves as a generalist provider in Mental Health Services, and works with students who are experiencing mental health concerns such as anxiety, depression, sleep difficulties, academic, interpersonal, and relationship stressors, sexual and racial violence.
"I am interested in working with immigrant and international students and supporting them through challenges that occur during transition to a different country and culture, identity development, managing isolation and social difficulties. I use a systemic and relational-interpersonal approach in therapy to understand the stressors for students from different backgrounds and cultures."
Deole believes college students face some of the most complex challenges as they transition into their lives as adults.
"As a Badger alumnus, I am familiar with the UW culture and the challenges that come with being a student at UW-Madison. I also worked with UW students as a practicum trainee and found that experience extremely rewarding. I want to continue to be a part of the support system for UW-Madison students."
Outside of UHS, Deole enjoys reading books, especially the Harry Potter series, cooking, and experiencing music arts and theatre.