Geetanjali Deole
Credentials: MS, LPC-IT
Position title: Mental Health Provider - Student of Color Focus, Multilingual (Hindi, English, Marathi)
Pronouns: she/her
Education

Masters, Indian Institute of Technology, Dhanbad, India

Education

Master in Counseling, University of Wisconsin-Madison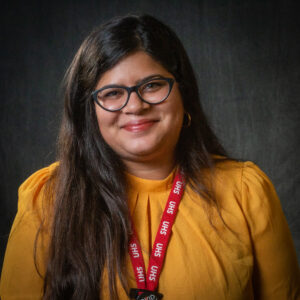 Geetanjali Deole serves as a Student of Color Focus provider in Mental Health Services. She is a multilingual counselor originally from India and provides therapy in Hindi, English and Marathi.
"I use a systemic and relational-interpersonal approach in therapy to understand the stressors for students from different backgrounds and cultures. I emphasize the power of identity and connection in my work and welcome non western and decolonizing approaches to healing. I believe that my role as the therapist is to help you move in the direction that feels correct for your growth, using tools from your value system. My clinical interests include working with difficulties in interpersonal/family relationships, dealing with racial/caste/color based discrimination, sexual and interpersonal trauma, multicultural identity development for 1st/2nd gen immigrants, acculturation and adjustment for international students and managing anxiety, depression, school stress and sleep."
Outside of UHS, Deole enjoys reading books, cooking, music and theatre.