Valerie Donovan
Credentials: BS, MS
Position title: Assistant Director for Mental Health Promotion and Suicide Prevention
Pronouns: she/her
Education

BS, University of Wisconsin-Madison

Education

MS, University of Wisconsin-Madison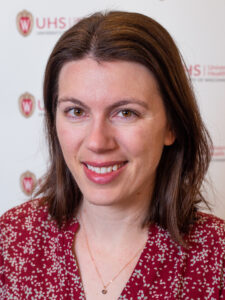 Val Donovan joined UHS in 2013 and enjoys working in college health because she wants to create a safe, healthy, and just campus environment that allows students to grow and flourish.
In her role as Assistant Director for Mental Health Promotion and Suicide Prevention, Donovan helps advance and support upstream, campus-wide efforts for suicide prevention and mental health promotion. She works with campus and community partners to cultivate health-supporting policies, systems, environments, practices, and programs, for UW-Madison students.
In her free time, Donovan loves to cook (without following recipes too closely), and exercising. She is always grateful for a weekend spent exploring new parks, libraries, and museums with her kids.