Kendall Ferguson
Credentials: MSW, APSW
Position title: Mental health provider, Survivor Services specialist
Education

BA, University of Wisconsin-Madison

Education

MSW, University of Wisconsin-Madison

Pronouns

she/her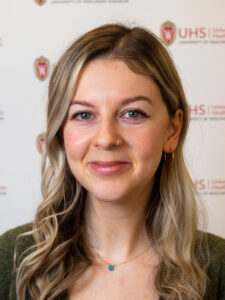 Kendall Ferguson joined UHS in 2022 and chose to work in college health because she enjoys helping students navigate and manage the difficult transitional areas of college life.
"It is an honor to witness students' process of learning to respond to life experiences with resilience and compassion, and to meet themselves with open-armed acceptance."
Ferguson's professional interests include identity development, relationship and intimacy, mind-body connection, attachment wounding, shame and perfectionism, codependency, family of origin concerns, self-compassion, and management of trauma symptoms.
Outside of UHS, Ferguson enjoys reading, hiking, decorating cakes, and playing with her cat, Pebbles.