Robin Good
Credentials: BFA
Position title: Creative Manager
Pronouns: she/her
Education

BFA, University of Wisconsin-Madison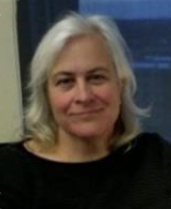 Robin Good started working at UHS in 2004, where her work focuses on marketing and communicating health information to students. Good enjoys working in college health because her role in communication can help foster healthy lifestyles that will contribute to students' future wellbeing.
Good urges students to remember that learning is a continuum. "Always keep your sense of wonder and find things in the world that amaze and inspire you."
Outside of UHS, Good works as a free-lance graphic designers, designs books, illustrates, and paints murals and theater backdrops. In addition to these projects, Good enjoys playing classical guitar and gardening.