Lea Ann Harris
Credentials: BS, MAT
Position title: Survivor Advocate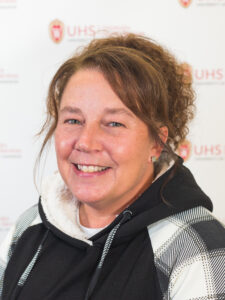 Lea Ann Harris joined UHS Survivor Services in 2022.
Survivor Services Advocacy provides direct support services to students who have experienced sexual assault, relationship violence, sexual harassment, and stalking. Our advocacy services focus on empowering student survivors by providing them with information on victim's rights, resources and referrals, accommodations, emotional support, safety planning, and accompaniments.
Prior to coming to UHS Survivor Services, Harris served as as a Lead Advocate/Case Manager at a non-profit domestic violence/sexual assault agency in Dodge County, Wisconsin.
"Working at UHS allows for more professional collaboration across systems and more supportive resources for me to offer to clients. Prior to my work in advocacy, I was a Junior High and High School Social Studies teacher for 19 years in Ohio. The UW-Madison campus environment allows me to combine my love of education and life long learning, with my passion for victim/survivor advocacy."
Harris is a proud army spouse and has a blended family. Outside of UHS, Harris enjoys snuggling with her fur babies, reading, taking walks, watching football,  planning home renovation projects, and visiting with family as often as possible.