Margarita Perez
Position title: Gynecology Medical Assistant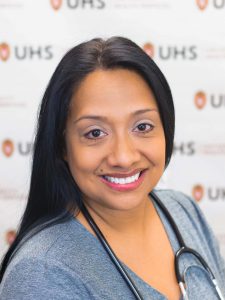 Perez has worked in the medical field since January of 2000. She has experience working in Family Practice, Urgent Care, Pediatrics, Ob/Gyn, Behavioral Health, and Women's Health.
She started working at UHS in June of 2014 in the Women's Health department. She loves working in a college healthcare setting because the student energy is exciting and infectious on campus. Hertrue passion definitely lies in Women's Health. Additionally, she volunteers at Dr. Mary Landry's "Share the Health Clinic". It is a free clinic for women that do not have health insurance.  Her proficiency in Spanish and English allow her to interpret, when given the opportunity, while still carrying on the responsibilities of an assistant. Having the best of both worlds brings tremendous satisfaction as she is able to provide ease and comfort for her patients, as well as the providers.
In her spare time, she loves to travel, cook, and bake. Often times you will hear her singing (or at least attempting to sing) or doing a quick dance in the hallway somewhere.