Jenna Retzlaff
Credentials: BS
Position title: Alcohol & Other Drug Misuse Prevention Specialist
pronouns

she/her

Education

BS, University of Wisconsin-Stevens Point

Education

Residency, University of Wisconsin-Madison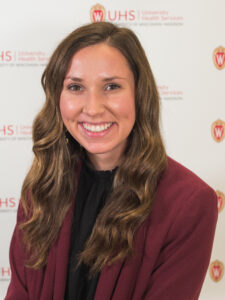 Jenna Retzlaff joined UHS in 2023 as a Alcohol & Other Drug Misuse Prevention Specialist.
Retzlaff works to support student development around effective advocacy for high-risk drinking prevention, recovery, and drug misuse prevention. Substance misuse can have many short-and long-term impacts on a person's life, as well as impact the campus and surrounding community.
Outside of UHS, Retzlaff enjoys traveling, being outside, hiking, and spending time with her dog.