Mary Steele
Position title: Laboratory Technician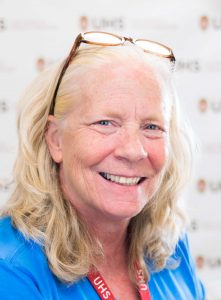 Mary Steele knows her veins! For UHS, Steele runs the laboratory, takes blood samples from patients, and takes rapid strep tests. She also assists patients with urine dip sticks and testing for pregnancies from urine.
After transitioning from working at a hospital, Steele began working at UHS in 2004. Steele also collaborates with the Wisconsin State Laboratory of Hygiene to test for sexually transmitted diseases.
Steele enjoys working with UHS staff and she loves helping her patients. She says the variety of work is a huge upside to her job, as well as the everyday work in bettering the health of students.
Steele believes UHS is the best university health service, and she always tries living vicariously through her patient's stories.