Nathan Whitman
Credentials: DNP, APNP, ANCC
Position title: Psychiatry Advanced Practice Nurse Practitioner
Pronouns: he/him
Education

BA, University of Wisconsin-Madison

Education

BSN, Johns Hopkins University

Education

MSN, University of Wisconsin-Madison

Education

DNP, University of Wisconsin-Madison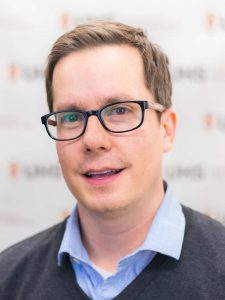 Nathan Whitman joined UHS in 2018. He has extensive professional training in a broad array mental health treatment approaches in a variety of clinical and educational settings. As part of a UHS psychiatric team, his strength is medication management for a number of mental health problems, including anxiety, depression and substance abuse.
"I feel really privileged to have this opportunity to work with college students. They inspire me every day with their intelligence, hopes and aspirations, and their enthusiasm about life, new ideas and new experiences. Mental health plays a really important role in their success, both in college and as they prepare for their future. I am excited to be part of a team to help University of Wisconsin students reach their full potential."
Whitman has wide-ranging life experiences, including two years as a Peace Corps volunteer in Mongolia, and a college year abroad in Nepal. In his free time, he enjoys hiking, skiing and doing almost anything outdoors.