Kathy Wierzchowski
PhD
Postdoctoral Psychology Fellow
Education

BA, Marquette University

Education

MS, Marquette University

Education

Doctoral Internship, Grand Valley State University

Education

PhD, Purdue University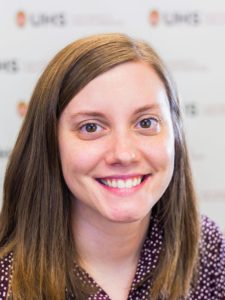 Kathy's clinical interests center on helping students navigate through adjustment concerns, identity development, anxiety and stress management, and social/relational concerns. As a counseling psychologist, Kathy has a strong background in career counseling and highly values discussing academic and career concerns with clients, as well as how vocational choices relate to our values and overall satisfaction.
Kathy uses an integrated (person-centered, interpersonal, and cognitive behavioral) approach in order to create a holistic view of each individual. By doing so, Kathy hopes to work collaboratively with each individual client to not only identify their strengths, but to also foster greater awareness of the self and how we relate to others. A key aspect of understanding one's self is also to create a deeper awareness of our thoughts, emotions, and actions. Kathy believes that slowing down and exploring the relationships between these key factors gives us great insight into how we view the world and can be extremely valuable to process in the therapeutic space.
In her free time, Kathy enjoys exploring Madison, spending time with her fellow post-docs, watching college basketball, drinking tea, reading, biking, baking, and spending time with her family and dog.