For the third time in five years, UW-Madison 2021 won the Alana's Foundation College/University Influenza Vaccination Challenge. UW-Madison previously won the challenge in 2017 and 2018.
This fall, University Health Services (UHS), in partnership with VaxPro, administered 19, 207 flu shots to students and employees, a four percent increase in flu shot immunizations from 2020.
"I'm very proud that so many students and employees received their annual flu shot in an effort to help keep our campus community healthy," says Dr. Aruna Josyula, UHS director of Medical Services. "Now, more than ever, vaccines are an important tool for us to help mitigate the spread of communicable diseases."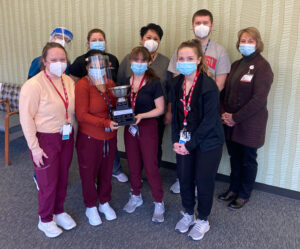 UHS hosted more than 20 vaccine clinics from September to December in locations across campus.
The Alana's Foundation was founded in 2009 in memory of Alana Yaksich, who died of influenza in 2003 at the age of 5. Alana's Foundation aims to prevent deaths caused by influenza.
"The Alana Yaksich National College/University Flu Vaccination Challenge is an important tool to help raise flu vaccination rates among the 18 to 25-year-old population, who typically have one of the lowest vaccination rates," says Zachary Yaksich, Alana's father.  "Consistent participation from national universities, like the University of Wisconsin-Madison, is critical for the success of the competition as well as increasing awareness and immunization rates among the vulnerable college population."