In addition to completing the online U Got This! program, it is expected that all first-year and new transfer students complete one GetWIse module of their choosing in the GetWIse@Home for New Students course in Canvas.
The GetWIse programs, designed UHS Violence Prevention professional staff and student Peer Educators, help new students explore violence prevention and survivor support topics more thoroughly on their own.  Each program should take no longer than 60-90 minutes.
All undergraduate students who started in Summer/Fall 2020 or Spring 2021 are expected to complete one module and there are three topic options to choose from, including: healthy sexuality/sexual assault, respectful relationships/dating violence, and how to support a survivor of violence. For more information about the GetWIse program options, please see below.
We understand that students who have personal experiences with sexual and relationship violence may find this content challenging; please know that we do not expect individuals with these experiences to complete this course if doing so would be at all harmful to your wellbeing.
If you have any questions, please email violenceprevention@uhs.wisc.edu (inbox is managed by confidential staff).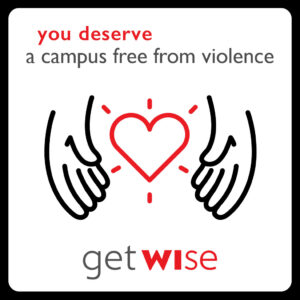 SexWIse
This program explores healthy sexuality and sexual violence in college. Participants will reflect on their own sexual wants and boundaries and the impact of stigma and social norms on individual choices about sex. Finally, students will learn about sexual violence, coercion, and concrete strategies for practicing consent.
ListenWIse
Most college-aged survivors of sexual and relationship violence first turn to their friends and family for help. This program helps build empathy and understanding of the impacts of violence and trauma and teaches concrete skills and strategies college students can use to support a friend who has been harmed by violence.
DatingWIse
This program helps students explore their own relationship needs and boundaries; respectful communication and conflict skills; characteristics of relationship violence; and how to support survivors and hold each other accountable to relationship norms of respect, consent, and care.