In addition to completing the online U Got This! program, it is expected that all first-year and new transfer students complete one GetWIse@Home program of their choosing in the GetWIse@Home course in Canvas.
The GetWIse programs, designed UHS Violence Prevention professional staff and student Peer Educators, help new students explore violence prevention and survivor support topics more thoroughly on their own.  Each program should take around 90-120 minutes.
All undergraduate students are expected to complete one program and there are three program topics to choose from, including: healthy sexuality/sexual assault, respectful relationships/dating violence, and how to support a survivor of violence. For more information about the GetWIse@Home program options, please see below.
Deadline for new Summer and Fall 2022 students: September 30, 2022
Deadline for new Spring 2023 students: March 3, 2023

We understand that students who have personal experiences with sexual and relationship violence may find this content challenging; please know that we do not expect individuals with these experiences to complete this course if doing so would be at all harmful to your wellbeing.
If you have any questions, please email violenceprevention@uhs.wisc.edu (inbox is managed by confidential staff).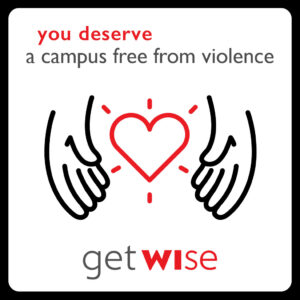 SexWIse
This program explores healthy sexuality and sexual violence in college. Participants will reflect on their own sexual wants and boundaries and the impact of stigma and social norms on individual choices about sex. Finally, students will learn about sexual violence, coercion, and concrete strategies for practicing consent.
ListenWIse
Most college-aged survivors of sexual and relationship violence first turn to their friends and family for help. This program helps build empathy and understanding of the impacts of violence and trauma and teaches concrete skills and strategies college students can use to support a friend who has been harmed by violence.
DatingWIse
This program helps students explore their own relationship needs and boundaries; respectful communication and conflict skills; characteristics of relationship violence; and how to support survivors and hold each other accountable to relationship norms of respect, consent, and care.
Most Frequently Asked Questions about GetWIse@Home Canvas Course
This is an accordion element with a series of buttons that open and close related content panels.
The continue button won't let me move forward - why is that?
The continue buttons are formatted so that you need to explore all of the content in a lesson before it will allow you to move on to the next lesson. If the continue button isn't activated for you, go back through the lesson and see if there is any content you haven't yet visited – such as additional tabs, pages, or other "clickable" information.
If you feel that you have reviewed all of the necessary content and still can't move forward, you can send an email to violenceprevention@uhs.wisc.edu with a description of where you are getting stuck. Please send a screenshot if possible.
I'm not comfortable completing a GetWIse@Home program because of personal experiences. What are my options?
If you experienced sexual or relationship violence and feel that completing this program would be harmful to your well-being, you are not expected to do so. If you feel that continuing to receive reminder emails will be activating for you, please email our confidential email violenceprevention@uhs.wisc.edu and we will assist you.
This is an accordion element with a series of buttons that open and close related content panels.
I thought I completed one of the programs, but I received a reminder email. What should I do?
It is possible that you did not certify your completion for the program you completed in Canvas.
Return to the Canvas course and click the "Modules" link in the Navigation Menu on the left side of the course. Find the Module you completed and click "4. Acknowledge Completion of GetWIse@Home."
Upon completing this quiz, you will receive full credit for completing the GetWIse@Home Canvas course and will no longer receive reminder emails.
How can I learn more about the topics covered in the GetWIse@Home programs or get involved on campus?
Visit this page to access resources for learning more about sexual and relationship violence.
If you enjoyed learning about any of the topics presented in the GetWIse@Home Canvas course, consider getting involved in the following student organizations and groups: