Sarah Nolan, PhD, is the new Director of Mental Health Services at University Health Services (UHS). Nolan, a psychologist, begins on July 27.
Nolan brings more than 10 years of experience and leadership at college and university counseling centers. Most recently, she served as the Assistant Director for Training at the University at Albany's Counseling and Psychological Services where she was responsible for the administration and daily operations for an American Psychological Association-accredited doctoral internship program and doctoral practicum programs. She earned her PhD in Counseling Psychology from the University of Florida.
"I am excited to welcome Sarah to UHS. Her student-focused approach to care and her commitment to social justice will enhance and compliment the dynamic team of Mental Health Services providers," says Jake Baggott, executive director of University Health Services and associate vice chancellor of student affairs. "Sarah has both institutional and national leadership experience that will be vital as we expand the clinical and outreach counseling services that are available to students."
Nolan received her bachelor's degree from Davidson College and master's degrees from Lynchburg College and the University of Florida. At the University at Albany, she was involved in developing and delivering programs aimed at promoting health among students, including programs focused on stress reduction, bystander intervention, culturally competent mental health services, and others. She co-chaired the university's LGBTQ+ advisory council for three years. Nolan also chaired the American Psychological Association's Section on College and University Counseling Division of Counseling Psychology from 2018-2020 and has served as a reviewer for the Journal of American College Health since 2013.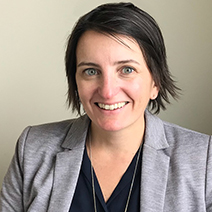 "I'm excited to meet students and campus partners and get to know the vibrant UW-Madison campus community," says Nolan. "The health and well-being of college students is critical to their academic success and personal growth, and Mental Health Services plays an integral role in supporting students at this stage of life. There are many challenges and stressors that students face and we're here to provide support and develop new and accessible ways for students to receive the services that are right for them."
Mental Health Services offers individual and group counseling, outreach programming,  24/7 crisis services, and Psychiatry services for medication management. It is comprised of 64 psychologists, counselors, social workers, and administrative staff. During the 2019-2020 academic year, MHS had approximately 28,000 undergraduate and graduate student client visits .
"I look forward to working closely with UHS staff to build bridges across campus and understand how we can ensure a comprehensive approach to health and well-being for all students," says Nolan.