As part of expanded services for students who experienced sexual or relationship violence, all UW-Madison students now have access to forensic nurse exams (FNE) at University Health Services (UHS). FNEs are available on campus thanks to a new partnership with UHS and the Dane County Multi-Agency Center, and partially funded by a grant from Office of Victims of Crime.
FNEs are performed by registered nurses with advanced training in providing services—such as physical exams and evidence collection—to victims of sexual assault.
Previously, if a student chose to have an FNE after an unwanted sexual encounter, they needed to go to Meriter Hospital which is the only health care facility in Dane County providing this service. Meriter reported that only seven percent of patients they saw for FNEs were UW-Madison students.
Data from UW-Madison students' participation in the 2019 AAU Climate Survey on Sexual Assault and Sexual Misconduct showed that 26.1% of undergraduate women, 6.8% of undergraduate men, and 28.4% of transgender, genderqueer or nonbinary, questioning, or not listed (TGQN) students experienced sexual assault victimization.
"Given the rates of assault we have on our campus, the student utilization of FNEs is disproportionate with what you would expect," says Kate Walsh, an associate professor of Psychology who answered a grant call in 2020 from OVC to expand access to sexual assault nurse exams (another name for FNE) on college campuses.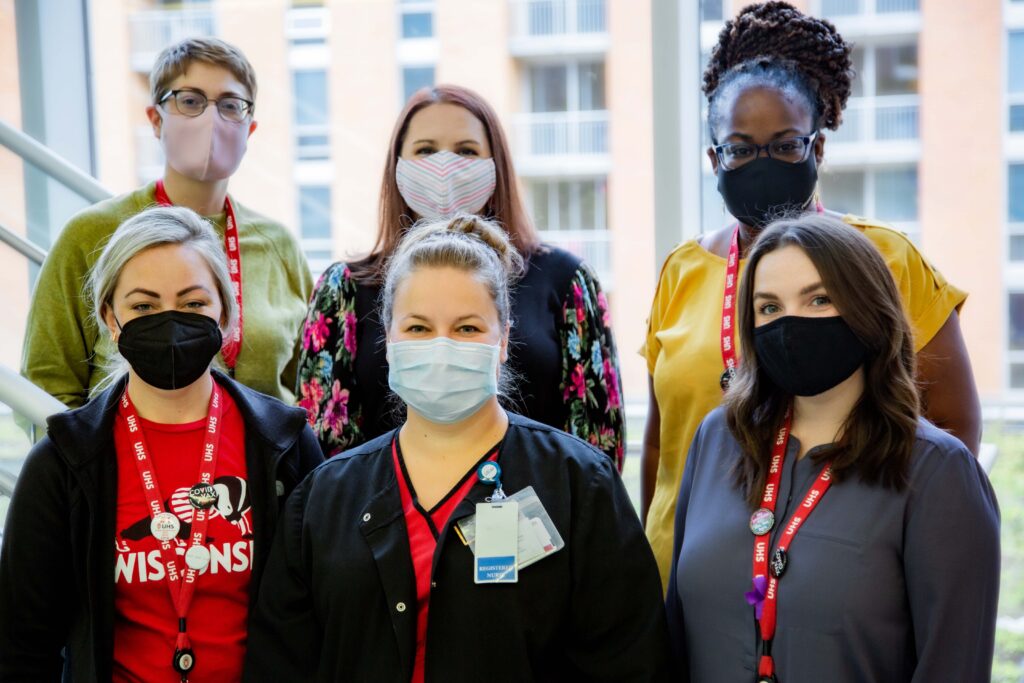 With Walsh's grant funding, a new partnership between UHS and the Dane Multi-Agency Center means that if a student comes to UHS for an unwanted sexual encounter appointment, an FNE nurse will be available to meet with them either by appointment in advance or within one hour of a drop-in appointment. During an unwanted sexual encounter appointment, a student may meet with UHS providers, an FNE, and a medical advocate from the Rape Crisis Center to explain the process and share options. The student will also have the opportunity to receive follow-up services from an advocate.
"We want to increase access for students in a place they trust and in a way that removes barriers. Nothing is required or happens automatically. You get to choose," says Jane Vander Meer, a provider in the UHS Gynecology Clinic (formerly the Women's Health Clinic). "We hope to do a better job of explaining the options and dispelling the myths that exams are required or police have to be involved."
UHS has offered survivor-focused clinical and advocacy services to students for more than 10 years. Earlier this year, the UHS Survivor Services unit restructured to expand these services, address wait times, and improve student survivors' experiences at UHS and the overall response to sexual assault across campus.
A part of the expanded services that was made possible by Walsh's OVC grant is enhanced student access to the UHS Survivor Services Advocacy Team. If a student needs comprehensive or long-term advocacy (which can include support requesting accommodations, information about and assistance with campus and legal reporting options, accompaniments to appointments or meetings, safety planning, or emotional support) a member of the advocacy team is available by appointment.
"There are many wonderful resources for survivors on campus and in the Madison community. However, it can be overwhelming or confusing for students to understand what their options are and how to navigate these systems. The role of our advocates is to act as a support person for survivors, while connecting them to the services they want to engage in," says Anna Gorman, a survivor advocate in UHS Violence Prevention.
To schedule an appointment for an unwanted sexual encounter, log in to MyUHS or call 608-265-5600 (option 1). To schedule an appointment with a UHS Survivor Services advocate, call 608-265-5600 (option 3).